Crowdsolving is the idea that loosely connected people can come together to solve complex problems by working as an extended team.
If you've used the navigation app Waze, you already know crowdsolving. In Waze, drivers come together to outsmart traffic. With the tap of a few buttons, users report road closures, traffic accidents, construction, police presence, hazards, and more. Drivers see the traffic problems immediately, add their observations, and adjust their routes. Seemingly disconnected people come together to outsmart traffic. This is an example of crowdsolving.
Drawdown Georgia is bringing people together to reduce Georgia's carbon footprint. It's going to take an extended team of companies, cities, nonprofits, universities, policy makers, advocates, innovators, entrepreneurs, officials, and leaders across every mile of the state. And all that crowdsolving happens on Groopit.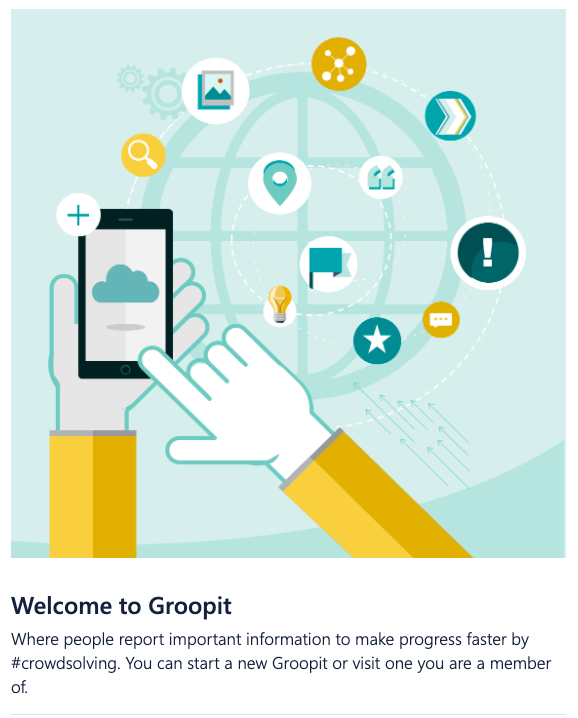 Working as an extended team is different than working as a core team, just like being a member of an extended family is different than being a member of your core family. In an extended team, there are countless independent and dependent decision-makers. They work in different locations, organizations, industries, on different solutions, and with different areas of expertise. People step up in unpredictable ways and at unpredictable times. Their work is fluid, complex, and not governed by any single hierarchy.
Crowdsolving is what allows Georgians to work as an extended team. So how does it work? Let me return to the Waze example and explain it.
In Waze, drivers report traffic congestion, accidents, and hazards every time they happen. With Drawdown Georgia, crowdsolvers report CO2 reducing projects, people, challenges, progress, and impact.
Projects: If you're working on a project – big or small – that will reduce CO2 emissions, report it so we can see it as part of the big picture.

People: If you or your organization are committed to reducing CO2, report it to become part of the extended team.

Challenges: If you encounter a challenge, report it so the extended team can learn and offer support.

Progress: If your project is progressing, share photos and updates so Georgians can measure collective progress.

Impact: If you find a solution, a best practice, or get results, report it.
In Waze, drivers do not write long emails and figure out who needs to know the information. They contribute data with a few quick taps. With Drawdown Georgia, crowdsolvers do the same using their mobile phone and joining us on Groopit.
In Waze, drivers do not contribute information into a big black hole or wait for weekly summaries to know what's happening; they see what's happening immediately. In the Drawdown Georgia Groopit, crowdsolvers see reports as they are made so they are always in the know.
With this crowdsolving approach, Georgians across every mile of the state can work together as an extended team to reduce CO2 emissions.
We Can't Afford to Fail: Extended Teams Must Work Together Now More Than Ever
We find ourselves in a world facing complex problems and people with unprecedented determination to solve them. More than ever before, getting results requires the efforts of an extended team working together. Groopit is on a mission to help those teams accomplish great things. We are thrilled to power crowdsolving for Drawdown Georgia and are looking forward to the journey ahead.