Biophilia is a relatively new term for an ancient idea - the human desire to connect more fully with the natural world. Numerous studies have drawn the connection between time spent in nature and improved mental health. There is evidence that when biophilic principles are incorporated into office environments, workers become more motivated and satisfied. Biophilia shows us that when humans disconnect from nature, we become less fulfilled, less healthy, and the toll on the environment and our climate is immense. In order to protect the planet, humans must reconnect with the natural world. We need to build a biophilic movement.
A Definition of Biophilic Design
Biophilic design is simply the practice of incorporating direct and indirect connectivity to nature in the built environment. On a societal level, biophilic urban spaces are ones that are climate positive, sustainable, promote health and wellness, and connect us to nature. Below are three case study examples of urban spaces that have successfully incorporated biophilic principles into their design. Urban planners, architects, and city officials who wish to reduce emissions and develop healthy, regenerative communities can use these case studies as a helpful guide.
Biophilia in Action: The Walkable City of Pontevedra, Spain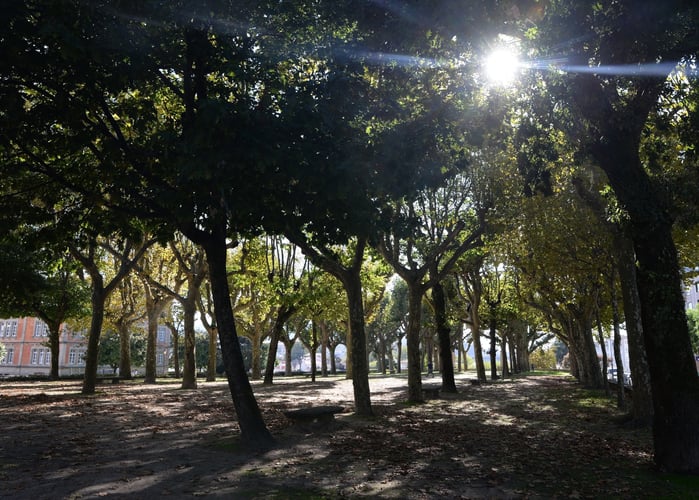 Located in the Iberian Peninsula of Spain, Pontevedra's city center is a prime example of sustainable urban design, known primarily for its focus on making the city more pedestrian-centric. In the early 2000s, traffic in the densely populated city had become especially problematic, with cramped parking spaces, car pollution, and dangerous conditions for disabled and elderly pedestrians. The city incrementally banned automobiles and reduced emissions by 70% as a result. This highly-walkable city now features tree-lined streets, plentiful green spaces for gathering, and restaurants that spill out onto the cobblestone streets, which encourages citizens to spend time outdoors. Pontevedra is the recipient of multiple awards for its quality of life and accessibility, including the United Nations Habitat prize and the Excellence prize from the Center for Active Design.
Biophilic Urban Design: the Singapore Park Connector Network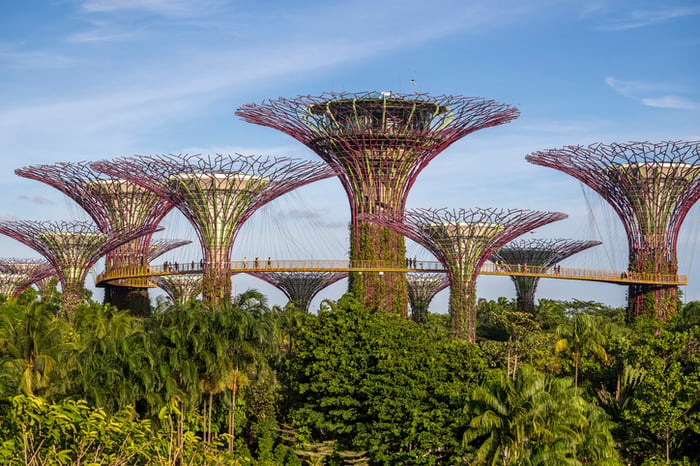 Since 1965, Singapore has strived to become a "city within a garden." In that spirit, the Park Connector Network (PCN) is an initiative to convert underutilized urban infrastructure like roads, canals, and railroads into recreational green spaces. With a population density similar to that of Hong Kong, Singapore's use of biophilic urban design via the Park Connector Network is an immensely important amenity that improves its citizens' quality of life, promoting fresh air, increased walkability, and a connection to the plant world. Biodiversity flourishes along the PCN, including 80 species of mammals, 395 species of birds, 110 species of reptiles, and 30 species of amphibians. Singapore's Park Connector Network demonstrates that urban planners can repurpose existing infrastructure in order to build healthy, biophilic spaces.
Biophilic Design in the Workplace: Google Headquarters
The Google HQ in Mountainbrook, California, is a two million-square-foot building complex comprising six office buildings that surround an outdoor common space. The buildings themselves use solar panels that produce 1.6 million megawatts of renewable energy. They feature domed interiors that allow workers to take in plentiful views of nature and that let in tons of natural light. Employees also enjoy plentiful access to green space because there are few parking areas within the campus. Most employees walk or bike throughout the day. The Google HQ is an excellent example of biophilic design in the workplace, with an emphasis on renewable energy, passive heating and cooling, and rainwater harvesting. In 2019, Google received honors for being the best employer for new graduates, women, and minorities.

These case studies were pulled from Dr. Phillip James Tabb's Biophilic Urbanism: Designing Resilient Communities for the Future. To learn more about these examples and to see additional case studies, purchase a copy of the book or listen to an interview with Dr. Tabb on the Biophilic Solutions podcast.

The Biophilic Institute is a 501c3 organization that creates programs, partnerships, and experiential opportunities that advance education, research, and best practice sharing in all aspects of sustainability.