What is community solar, and why is it one of Drawdown Georgia's 20 solutions? We asked CEO of Groundswell, Georgia-born/DC-based Michelle Moore, to break it down for us.
Community solar enables people to share solar power from a centralized local array without having to install solar panels on their own roof or property. Depending on state and local energy markets and incentives, community solar can also be a source of savings.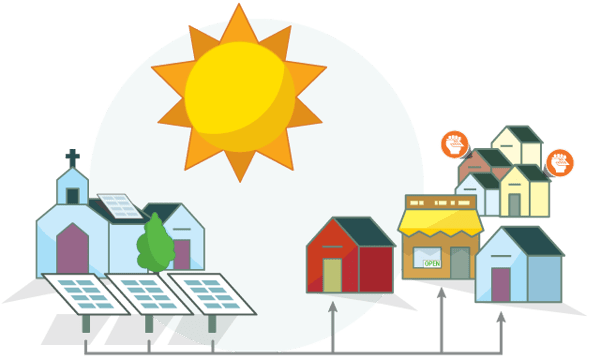 Scaling Solar as a Climate Solution with Groundswell
Because of Georgia's energy laws and regulations, communities have to partner with their local utility to develop or participate in a community solar project. A great way to get started can include working with organizations like Groundswell, a nonprofit that builds community power by connecting clean energy with economic development, affordability, and quality of life. Groundswell has already developed multiple equitable community solar programs that are now serving more than 3,500 customers while providing more than $1.75 million in clean energy savings.
The good news is that the community solar market in Georgia is in such an early stage that it's possible for leaders like the people who are part of the Drawdown Georgia community to shape its course. Here are five ideas for sharing power and savings with community solar in Georgia:
Focus on Energy Democracy: Georgia has three types of utilities: investor-owned (Georgia Power), municipal, and rural electric cooperative. Municipal utilities are typically governed by the Mayor, City Council, and other people who are accountable to residents, while rural cooperatives are governed by Boards that are elected by their member customers. They're designed to listen to what their customers and communities want and need, so ask them to work with you to develop a community solar program if they don't already have one.


Keep it Local: "Buy local" can apply to power, too. By developing community solar projects locally so that people can see where their power comes from has a lot of benefits, including increasing participation in the project. Engaging the community to help identify the best places for community solar projects helps increase buy-in, too.

Energy Equity: Connect Value with Values: If your household is blessed with financial comfort or even affluence, do you really need to save 5-10% on your electricity bill? Or would your values be better served by sharing that savings with a neighbor who's paying 10% or more of their entire income to keep the lights on? Take the time to get to know what your neighbors want and need, and design your community solar project to share the benefits.





Build for Resilience: Incorporating energy storage and local microgrids into your community solar project can be a great way to increase resilience for important places like hospitals and shelters. As a part of the NREL SEIN program, Groundswell is working in collaboration with Partnership for Southern Equity, Spelman College, and the Atlanta University Center Consortium to design a resilience hub in Atlanta; and we're working with the City of Baltimore as well. There are several technical assistance programs available, including this one specifically for Georgia, if you'd like to explore what resilience can do for your community.

Don't Be Afraid to Go Big:

Corporations can be good neighbors, too. Big companies with 100% renewable energy commitments have helped to drive solar solutions in Georgia and in many other states. Because of the size of the resulting projects - which can cover hundreds or even thousands of acres - the power these projects generate is often less expensive than energy from any other source. While these utility-scale projects are far larger than conventional community solar, they may still present opportunities to share benefits with local residents. For example, could these big projects add additional solar panels that are accessible to local residents? If you live in South Georgia where a lot of these projects are being built, you should ask! And if you're interested, follow

Groundswell's work with the Renewable Energy Buyers Alliance

to discover more innovative ways to work with corporate clean energy leaders.