Implementing small-scale climate solutions is one of the best ways to improve our environment. By taking steps in our local communities and public spaces, there is an opportunity to influence community members to incorporate climate solutions in their homes. This is why projects like Drawdown Georgia Congregations are so impactful.
What is Drawdown Georgia Congregations?
Drawdown Georgia Congregations is a joint effort between Georgia Interfaith Power & Light (GIPL) and Drawdown Georgia to incorporate climate solutions in houses of worship. It's small-scale climate solution projects like these that make a positive impact and a bigger difference in our day-to-day lives.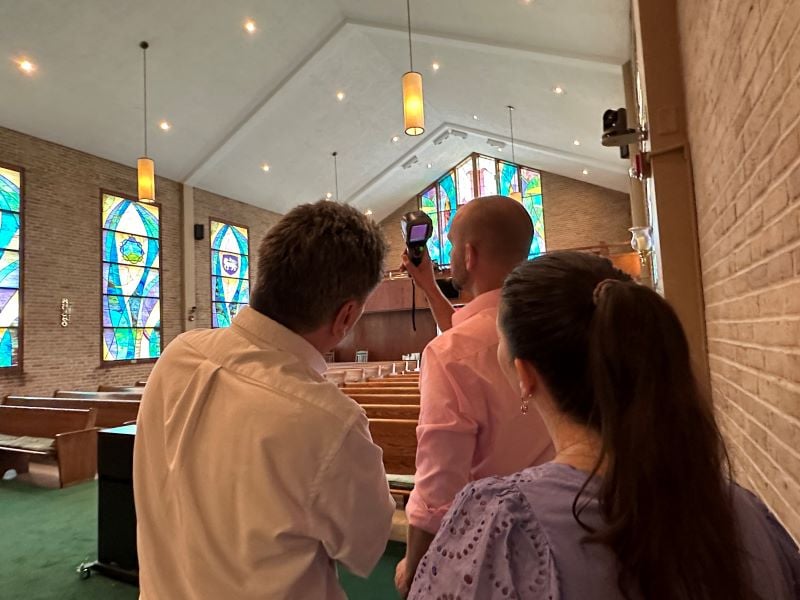 "GIPL's mission is to engage communities of faith across Georgia in the stewardship of Creation as an expression of faithfulness and as a religious response to global climate change, resource depletion, environmental injustice, and pollution," says GIPL Program Director, Hannah Schultz.
Since 2003, GIPL has reached over 600 congregations throughout Georgia and has implemented multiple Drawdown Georgia climate solutions.
Drawdown Georgia Congregations In Action
Some examples of these implemented solutions include:
Drawdown Georgia's 20 high-impact solutions provide practical steps for congregations to take climate action and lower their personal and institutional carbon footprints. Every major faith tradition has an ethic of caring for the natural world and seeking justice for our neighbors. Drawdown Georgia Congregations provides communities of faith an opportunity to live out these values.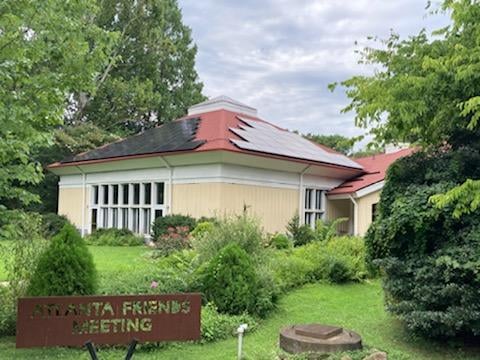 "By implementing the Drawdown Georgia climate solutions, congregations join the statewide movement to lower our carbon emissions and reduce the harm our communities experience from environmental injustices associated with global climate change," says Schultz.
How Else Can Georgia Congregations Get Involved in Climate Solutions?
Even if a congregation isn't ready to take a big step like installing rooftop solar or undergoing a building retrofit, GIPL's partnership with Drawdown Georgia is helping to educate and engage faith about climate solutions. Here's a look at some smaller but equally impactful projects so far:
Oakhurst Presbyterian Church, with the help of a Power Wise grant, converted 90+ percent of its lighting to LED. They were then inspired to help individuals convert to LEDs at home. In 2022, they had 11 households participate in this program and 184 lightbulbs were installed.

Temple Sinai celebrated the importance of plant-based eating by presenting their Board of Directors with a surprise vegan 'tasting' at their March meeting. Several courses were prepared, including Beyond Burgers, cauliflower pizza, and vegan chocolate cake. The leadership of the congregation was excited to learn about the healthy impacts of plant-based diets on both their bodies and our planet.

Unitarian Universalist Congregation of Atlanta recently installed EV charging stations as part of Georgia Power's Make Ready program. Charging stations in congregations provide an opportunity for staff and members of the congregation to charge their electric vehicles on-site. They also serve the surrounding community and model the congregation's commitment to environmental stewardship.
Taking action on climate change can sometimes feel overwhelming, but Drawdown Georgia climate solutions provide a roadmap of tangible and accessible things that faith communities can do to make a real impact.
Establishing Green Teams Within Congregations to Take on Climate Solutions
Much of GIPL's work to develop relationships and inspire faith communities to scale climate solutions is tackled by Green Teams within their congregations. Green Teams are groups of three or more individuals who identify sustainability goals and help to implement initiatives within their faith communities.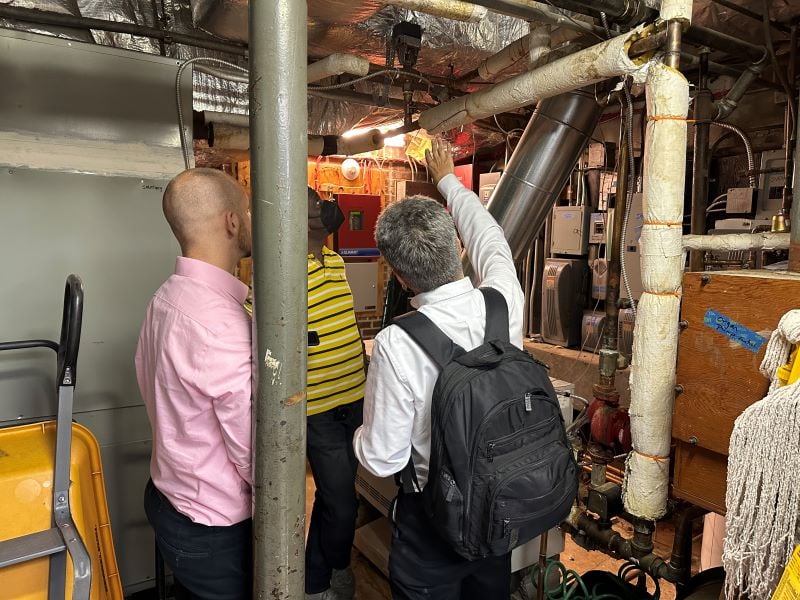 "Green Teams are core to GIPL's work and we offer team coaching, monthly roundtables, and educational classes and workshops to support them. Since 2021, we have registered 30 new green teams across the state," says Schultz.
Green Teams Improve Energy Efficiency in Georgia Churches
St. John the Evangelist Catholic Church participated in GIPL's power-wise program last year and received funding to make energy efficiency retrofits on-site. Their Green Team Leader, John Duke, shared the impact of implementing this solution.
This project included a lot of moving parts. "The Green Team worked to replace our gas furnaces with high-efficiency 2-stage heat pumps and change the water heater to electric, which cut one of the two gas bills we were paying. We also changed all of our lights to LED. I even formed a company and bought liability insurance so that I could do it cheaper than the estimates we had gotten," Duke explained.
By implementing these energy-conserving solutions, St. John the Evangelist Catholic Church has saved as much as $2,500 in energy bills to date and inspired its congregation to take on these solutions in their homes.
Green Teams Reduce Waste at Community Events
Another big Green Team project was at the Roswell Community Masjid, where they implemented zero-waste practices for their Iftars during Ramadan. "We were drawn to implementing this solution because we hadn't realized how much waste we produced in previous years," says Renee Alnoubani, Green Team Member at the Roswell Community Masjid.
This Ramadan, they switched to compostable to-go boxes and started a water bottle campaign encouraging people to bring their water bottles to reduce waste. They also implemented a new trash policy that encouraged participants to finish their meals, take home any leftovers, or compost the scraps.
"During each Iftar, we set up a centralized trash location where the Green Team and other volunteers, including the Girl Scouts, sorted all the waste. We had bins for compost, recycling, and trash. We were able to compost about 400 boxes with Compost Now," says Green Team Member Kareemah Swift.
Going a step further, the Roswell Community Masjid even hosted a special zero-waste Iftar. "We asked people to bring their own reusable plates, containers, utensils, water bottles, and anything else they'd need for the meal. Through this, we only produced five pounds of waste," says Swift.
To continue improving this project, the Green Team installed water fountains throughout the Masjid to discourage the use of single-use plastic bottles. They also plan to continue composting and minimizing their waste. "This is just the beginning for us, we still have a lot of work to do," says Alnoubani.
Climate Impacts Go Beyond Communities of Faith
By implementing these climate solutions in their congregation, many Green Team members and congregations at large have begun implementing climate solutions at home. "I recycle everything I can now and am more conscious of the things I buy at the store," Alboubani shared.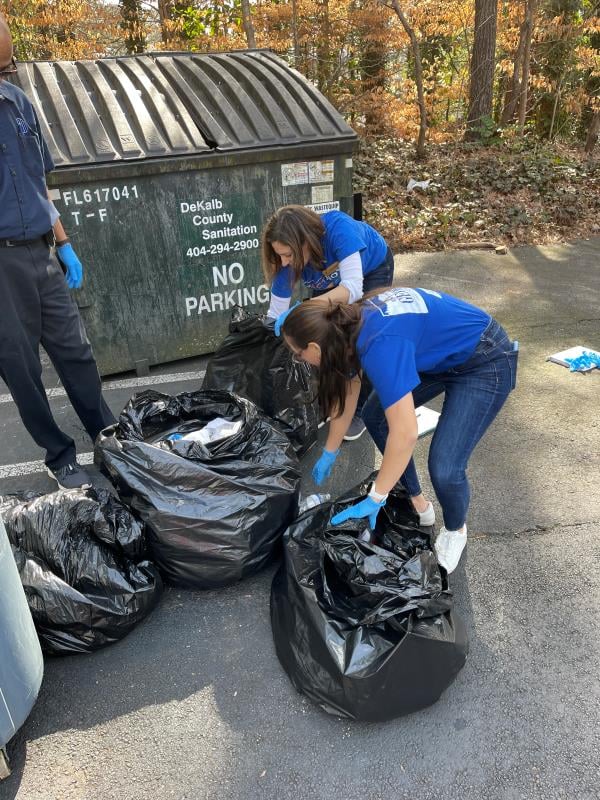 Leaving no trace of waste behind, Swift shared, "If we have anything left over that doesn't fit in our compost bin, I'll just take it home and add it to mine."
The next time you think about implementing climate solutions in your home or community, don't be overwhelmed. Instead, find a solution that works for you or your community and evaluate the positive impact it will make on our climate and your life. No action is too small to go unnoticed.
Interested in Becoming Part of Drawdown Georgia Congregations?
Is your congregation involved with Drawdown Georgia Congregations? If not, you can help your community of faith take the first steps toward taking action on climate. Learn more about how your congregation can get involved by visiting GIPL's Drawdown Georgia Congregations page.