The state of Georgia has over 90,000 miles of public roads. Can you imagine a future in which those miles of asphalt could serve as a powerful climate solution by capturing solar energy?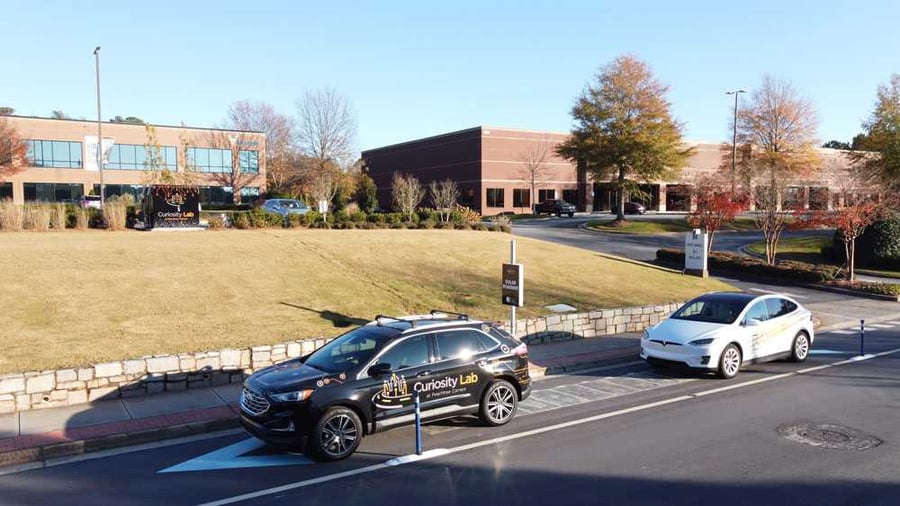 Photo by Curiosity Lab
It's possible with Wattway solar road panels, which were first launched in 2015 by Colas, a transportation infrastructure company based in France. Designed to literally pave our streets and highways with renewable energy, Wattway panels consist of photovoltaic (PV) cells that are embedded in a sturdy, multilayer road surfacing material.

You might be surprised to learn that our state is home to the first Wattway solar roadway in the country. The Ray was the first to pilot a 50-square meter-installation of Wattway panels at the Georgia Visitor Information Center in 2016, and the city of Peachtree Corners is now home to the first solar roadway in the country thanks to a partnership between The Ray and Curiosity Lab.

How did Georgia become the country's incubator for these technologies? We sat down for a conversation with Brandon Branham, Assistant City Manager and Chief Technology Officer for Peachtree Corners and Allie Kelly, Executive Director of The Ray to find out how our state came to be a leader in highway and roadway solar, and to explore what the future might hold.
What is the Curiosity Lab and how did it come to be?
Brandon: The Curiosity Lab is an economic development project funded by the city of Peachtree Corners, located at the site of the first technology park ever built in Georgia back in 1968. This office park was the birthplace of a number of modern technologies including the first modem and the color printer.

When the city of Peachtree Corners incorporated in 2012, it inherited this aging office park and had to find a creative way to reinvigorate the area. As we looked around, we identified an opportunity in the development of smart city mobility and IoT (Internet of Things). Technology companies already had access to study new innovations on closed courses, but were in need of an intermediate step in between testing in these very controlled environments and the obstacles of downtown Atlanta. So that's how Curiosity Lab came to be. We created a three-mile autonomous vehicle and advanced mobility testing facility on a public street. We're now able to offer the unique chance to test these new technologies with real human-driven traffic as well as the technology fiber infrastructure along the roadway.

Why are The Ray and Curiosity Lab an ideal fit to work together?
Allie: We're in our second year of partnering with Peachtree Corners and their Curiosity Lab. The Georgia Department of Economic Development helped connect us, as they have been very involved with both The Ray Highway and its progress as a highway testbed, and with the development of Curiosity Lab as a quasi-urban testbed for advanced mobility.

Brandon: There was an immediate symbiosis between the work that The Ray is doing and what we're doing at Curiosity Lab with the different offerings that we can provide to companies as they come in. Together we're able to meet a wide range of testing needs for the companies we work with.

How did The Ray first connect with Wattway?
Allie: It was fate, really - it couldn't have gone more smoothly if you had planned it. The connection between The Ray and Wattway goes all the way back to the COP21 climate conference in Paris in 2015, where the Ray C. Anderson Foundation team first connected with Colas, the French company that created the Wattway solar road.

Also at that time, the Foundation had a fellowship program and one of the fellows was Michael Molitor, who was coincidentally living in Paris. Michael spent quite a bit of personal time with the Wattway team at their headquarters just outside of Paris. Because of this direct connection and the legacy of Ray Anderson, Wattway made a deliberate decision to work with The Ray.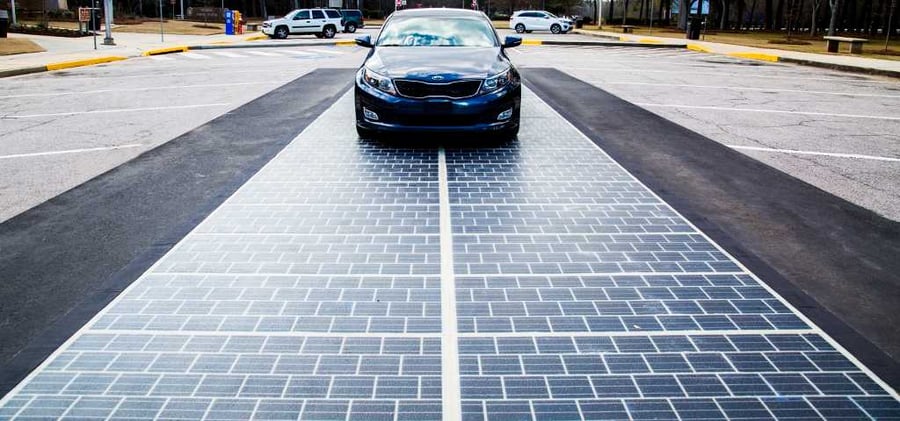 Photo by The Ray
Ultimately, we were able to provide Wattway with the first opportunity to deploy their technology in the United States in partnership with the state DOT on the Ray Highway access lane leading to the interstate from the Georgia Visitor Information Center. For a company like Wattway, whose strategy is wide-scale deployment on public roads and streets--not driveways or corporate campuses--this represented an invaluable opportunity to connect with an American Department of Transportation and an American city.

What is the next step for Wattway panels in the United States?
Brandon: At Peachtree Corners, we're still early in the process. We're collecting data to see if this technology does work and determine how it can be applied to different areas in the city. How much sunshine, and how many solar road panels do we need in order to support vehicle charging or to operate lighting or security cameras? These are the types of questions we're still finding answers to.

Allie: The panels will also need to go through higher speed testing with heavy, loaded trucks. So the next step would be to test the panels either on federal highways or in a setting that mimics highway conditions. Auburn University has a test track affiliated with their National Center for Asphalt Testing, and what they do is really interesting. They have an oval track that is used for testing different asphalt types and installation methods on different sections around that oval track, and they drive fully loaded 18-wheelers around the track for 8-10 hour days, 6 days a week. By doing this, they're able to compress 10 years of road utilization into a testing period that lasts just 3 years.

Another go-to-market strategy, at least in the near term, would be to install the solar pavement in bike lanes and in autonomous vehicle-only lanes in cities across the country and utilize the solar energy generated to power charging stations for EVs, bikes, and scooters, or to power lighting and other urban infrastructure. You can imagine a number of uses where the demand is right there at the roadside and where solar road-generated energy could provide not only an immediate power source, but also as a technology that supports resilience.

What other climate-related projects are happening in Peachtree Corners through Curiosity Lab? What's on the horizon?
Brandon: We have the largest DC fast-charging site for electric vehicles in metro Atlanta, with 16 chargers in our town center.

We're also in the process of closing on some land to create a mobility hub within the Tech Park. Solar will be a big part of regenerating the grid, which will also be geared around electric vehicle charging and the operations of that facility overall, including things like lighting and security. Right now we're going through the necessary calibrations to see how much solar this hub will require. The goal is to try and create a sustainable, off-grid model for micro-mobility and the transit station.

What advice do you have for other cities that want to pursue new projects around green tech and infrastructure?
Brandon: We had success because the first thing we did was go out and meet with our constituents and local businesses. It's important to sit down, share a cup of coffee, and talk about what you're wanting to do and what the specific benefits are. Having those open conversations around the table really helped dispel a lot of the misinformation out there and got the community comfortable with what we were doing, which is essential, because in the end, it is an investment of public funds. We made sure that the community understood the technologies and services: the purposes they serve, but most of all the opportunity for economic development and all that can bring. For us, it's been a big success. Two companies moved here to Peachtree Corners, bringing over 400 jobs, all because of the smart technology and testing environment we've been working on.

Allie: My advice to local governments would be to take a look at what Peachtree Corners has done, and how they did it, because I think Peachtree Corners--like The Ray--tries to structure projects so that they can be easily replicated. I think Peachtree Corners is a great reference point for other cities in how they permitted the project, how they financed the project, etc.

It's also important to do your homework on solar. Tall buildings cast a lot of shade in urban areas, so it's important to perform a radiation analysis to figure out where the best opportunities for solar will lie. It may be in bike lanes, autonomous vehicle lanes, or in pedestrian infrastructure. Evaluate what your local demand is along those routes and then prioritize the services (e-mobility charging, lighting, security infrastructure) that are the source of the demand.

Learn more by visiting The Ray and Curiosity Lab online.