In Georgia, a small - but growing - portion of our electricity comes from renewables, like rooftop and large-scale solar. The majority of the solar power in our state comes from large-scale installations, the largest of which is GA Solar 4, a 200 MW project in Twiggs County. The state is also home to 8 other large-scale installations with an operating capacity of 50 MW or more.

Based on a recent conversation between experts, it's clear that Georgia is at the precipice of unlocking solar as a major climate solution. On May 20, 2021, Drawdown Georgia hosted a webinar with some of the changemakers who hold the keys, and who can help accelerate our best ideas to solve for climate change. The conversation that follows answered questions like:
How can we leverage technology like mapping to protect fragile ecosystems and support biodiversity as we continue to build new large-scale solar installations?

What role can Georgia-grown highway solar projects play in scaling these solutions across the country?

And perhaps most importantly of all, how can we ensure that solar projects promote equity and climate justice?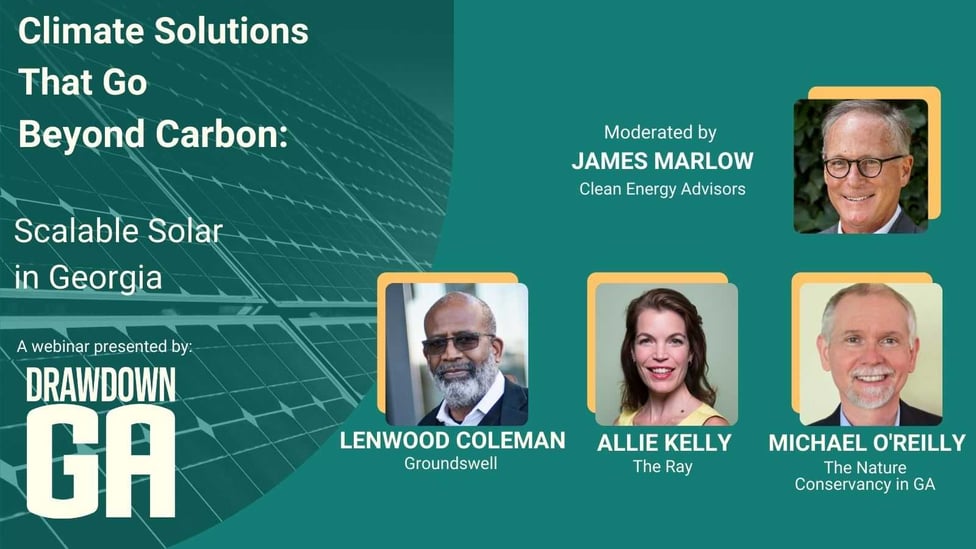 Michael O'Reilly, Director of Policy & Climate at the Nature Conservancy in Georgia
Noting the importance of moving quickly to transition to low carbon energy generation in the effort to solve for climate change, The Nature Conservancy in Georgia also emphasizes the importance of preserving biodiversity. Where we site the solar facilities can make a huge difference.

To help reduce the environmental and biodiversity impact of new installations, the Nature Conservancy has created a new tool that identifies areas ideal for solar siting that also have a low impact on sensitive lands and habitats. These areas might include locations where the land has already been significantly altered for buildings and other development activities or marginal farmland where the soils have already been depleted.

Choosing low-impact areas for large-scale solar also reduces conflict and costs for development, delivers economic gains for communities, and helps to retain the carbon that's currently being stored in our forests in natural lands.

To help distinguish between areas with low and high impact, the Nature Conservancy worked with the Georgia Department of Natural Resources, the University of Georgia, and NASA to develop a mapping tool that helps developers identify ideal solar sites in Georgia. Researchers drew on a range of data relevant to solar suitability (how much solar energy the land receives, proximity of transmission lines, etc.) and environmental sensitivity (like the location of protected and conservation lands, prime farmland, and critical habitats).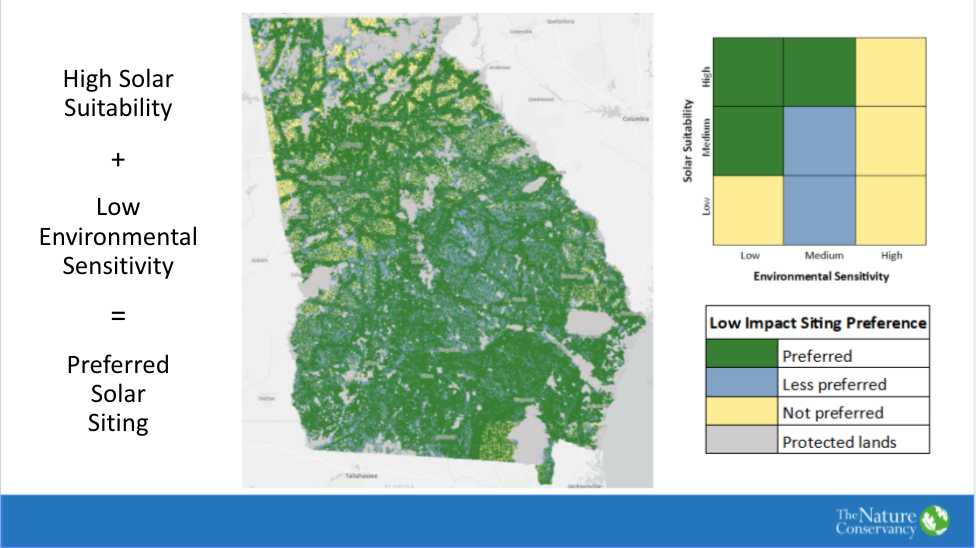 Remarkably, the tool found that more than 60% of Georgia's land falls into that preferred category of having both strong solar suitability and low environmental sensitivity. The Nature Conservancy is now beginning to work with solar developers, utilities, and state and local officials to guide the development of future large-scale solar facilities to these preferred areas.
Allie Kelly, Executive Director of The Ray
The Ray has made a name for itself as the nation's premier testing lab for transportation technology. In a partnership with the Georgia DOT and the Federal Highway Administration over the last five years, The Ray has already incorporated more than a dozen innovative projects on the Ray Anderson Memorial Highway, an 18-mile corridor of Interstate 85 in West Georgia.

Just one example of those innovations is the installation of one MW of solar on approximately four and a half acres of formerly empty and highly eroded Georgia DOT and federal highway property that lies along the southbound lanes at Exit 14.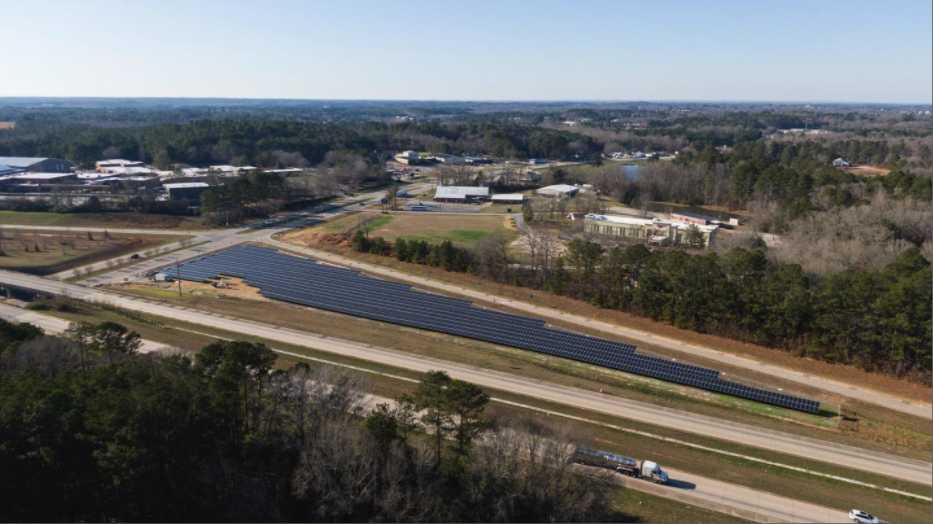 This project represents the first right-of-way solar site in the country that is pollinator-friendly. In fact, it is the first pollinator-friendly solar site in any location brought online by Georgia Power. Georgia is the third state to onboard renewable energy generation on the roadsides (following Oregon and Massachusetts).

The Ray believes the country is now at an inflection point with DOTs assessing their roadside land for renewable energy generation. In April, the Federal Highway Administration issued sweeping guidance that appropriate and desirable utilization of roadside lands on the interstate highway system should include renewable energy generation, and credit for much of that guidance goes to The Ray.

In 2020, The Ray worked with UT Austin and the Webber Energy Group to analyze the land at diamond and cloverleaf interchanges that was both available and appropriate for solar at interstate highway exits in the lower 48 states. They found that there is approximately 52,000 acres of empty, underutilized land in these specific areas alone that would be appropriate for solar development, with an estimated capacity of 23,000 MW of solar energy -- enough to power more than 12 million electric vehicles a year. If pollinator-friendly solar was incorporated, these projects would also offer the opportunity to rehabilitate these highly degraded soils over time.

The Ray has also worked to develop their own solar siting tool in partnership with ESRI, a company that performs GIS mapping for DOTs across the country. This tool allows The Ray to explore suitable land at visitor centers, rest areas, truck parking, and DOT maintenance facilities in addition to the land along roadsides. The partners are able to analyze that property for solar radiation, solar economics, and solar value. The Ray is currently working in 14 states with more than 20 transportation organizations that are benefitting from the expertise they have developed in roadside solar and in working with state and county governments.
New large-scale solar installations in these areas can also help support charging stations for the 18 to 20 million new electric vehicles predicted to be driving American roads by 2030. The EV charging station at The Ray Highway Visitor Center at the Georgia-Alabama state line is supported by 12 solar panels as just one example. The Ray is often asked how DOTs can provide 100 KW or 150 KW charging at visitor centers, rest areas, and rural areas where access to electricity is lacking. They believe that solar-powered EV charging is a viable option. As a reference point, Gridserve in the United Kingdom recently opened a large site housing 36 EV chargers offering charging speeds as fast as 350 KW that is backed by battery storage with solar panels installed on rooftops and canopies.
Lenwood Coleman, Chief Program Officer at Groundswell
Groundswell was founded in 2009 with a goal of helping low- and moderate-income communities through equitable community solar projects, clean energy programs that reduce energy burdens, and pioneering research initiatives that help light the way to clean energy futures for all. Headquartered in Washington, D.C., Groundswell currently operates in six East Coast states between New York and Georgia.

When Groundswell seeks to define solar projects as scalable and sustainable, they ask questions like: Were low- and moderate-income communities invited to the table as stakeholders and decision-makers? How many jobs are created for these communities? How many families will benefit and how many children will gain access to higher education? How will this project help us eradicate poverty? Solar projects that deliver affordable and accessible clean energy to the communities that need it most--this, Groundswell believes, is scalable solar.One new project Groundswell has introduced in Georgia is Breaking Barriers, which involves developing a resilience hub to serve the Atlanta University Center in collaboration with Partnership for Southern Equity, and several HBCUs including Spelman College, Morehouse College, Morehouse College of Medicine, and Clark-Atlanta University. In addition to an on-campus microgrid with solar and storage, Breaking Barriers project partners are supporting community residents in adjacent West Atlanta in their design of a second community resilience center.

Groundswell notes that minority communities are many times left out of solar projects, even when these communities include prestigious educational institutions. Breaking Barriers strives to right this wrong, developing a curriculum that will prepare students to be competitive and involved in the changing world of clean energy.

Keeping energy affordable for lower-income families and lifting up minority small businesses are also key areas of focus for Groundswell. However, it's important to keep in mind that reducing utility bills is only one piece of the puzzle - education, creating economic streams, and supporting minority small businesses are next crucial steps. Increasing renewable energy production alone isn't enough - it's essential to collaborate and ensure that solar projects serve all Georgians - not just the few.

The ultimate takeaway from this enlightening and electrifying conversation on scalable solar? The future of solar power in Georgia is incredibly bright, in part because the energy and innovation in this sector is deeply interconnected, putting us on track for a future with just, clean energy for all. View the recording of the full webinar below, or on the Drawdown Georgia YouTube channel.