The Ray, Donovan Energy, and ABB partnered to upgrade the solar-powered electric vehicle charging station located at the visitor information center located off Interstate 85 in West Point, Georgia. The station was commissioned on June 3, 2020. Charging at this location is free and provided by The Ray, a nonprofit organization and 18-mile living transportation lab located along the I-85 corridor between LaGrange, Georgia, and the Georgia/Alabama state line.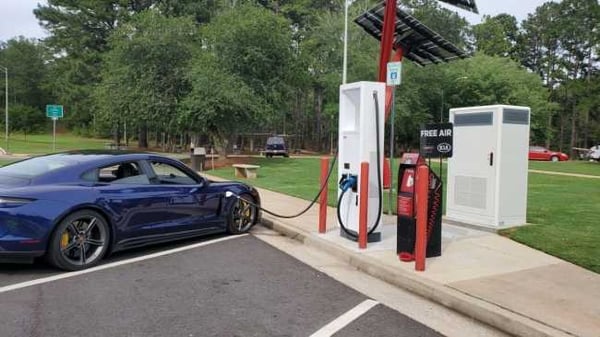 This station is three times more powerful than the original 50 kW station installed in 2015 by The Ray in partnership with Kia Motors Manufacturing Georgia. That station was the Southeast's first solar-powered EV charging station, and, prior to its installation, travel between the state capitols of Georgia and Alabama was not possible for the majority of electric vehicles.
>> Learn more about the benefits of EV ownership: How to Switch to an Electric Car in Georgia toolkit.
Now, The Ray has taken another innovative step forward with this ABB 175 kW Terra HP, a modular, high-powered charging system designed to minimize charging time. "At The Ray, we want to demonstrate what's next and showcase the electrification of transportation," said John Picard, Vice President of The Ray. "With this new charger, we can show how easy it is to store energy and rapidly recharge. Range anxiety has always been an issue with electric cars, but that's not the case anymore as The Ray switches on the most efficient fast charger in the market."