Farming is a critical piece of our state's economy, and how we grow our food is a significant part of Georgia's carbon footprint. To cut carbon substantially, we need to grow food in ways that benefit the land, sequester carbon, increase composting, and harness renewable energy as much as possible.
The recipients of the inaugural Drawdown Georgia Climate Solutions & Equity grants, awarded in December 2022, also understand the value of connecting these dots, and of solving for climate and equity at the same time.
How Georgia Organics + McIntosh SEED Grow Climate-Smart Agriculture in Georgia
We spoke recently with representatives from Climate Solutions & Equity grant recipients Georgia Organics and McIntosh Sustainable Environment and Economic Development (McIntosh SEED) about the work these organizations are doing to support Black and Brown farmers in Southeast Georgia. The two organizations are helping them to build climate resilience, grow healthier soils that will sequester more carbon, and install solar arrays to power their farms with renewable energy.
Tell us about the work that your organizations do.
Since 2012, McIntosh SEED has been working with farmers and landowners to implement conservation practices and has assisted 14 landowners in accessing cost-share funding through Natural Resources Conservation Service's (NRCS) Environmental Quality Incentives Program (EQIP). McIntosh SEED has a long track record of connecting underserved farmers to available resources, providing farmer services in Southeast Georgia and, more broadly, across the Southeast.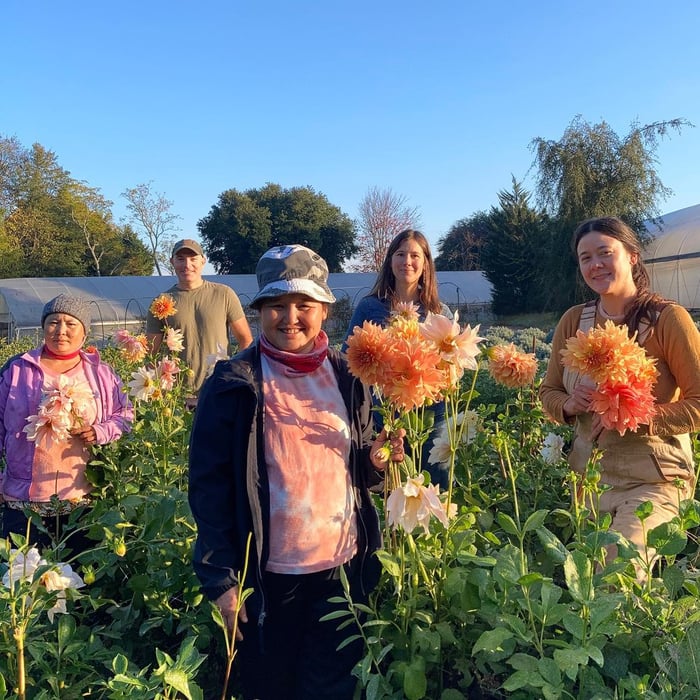 The team at 3 Porch Farm with seasonal flowers. Photo by Meg Darnell.
Georgia Organics is the oldest statewide nonprofit providing direct support to local and organic farmers; our mission is to invest in organic farmers for the health of our communities and the land. For over 25 years, Georgia Organics has supported farmers who seek to incorporate conservation agricultural practices, including cost shares for farmers seeking organic certification.
Congratulations on receiving one of the inaugural Drawdown Georgia Climate Solutions & Equity grants. Tell us about the climate-smart projects this grant will fund.
Georgia Organics and McIntosh SEED are excited to develop the Climate Smart Farmer Program (CSFP) in partnership with support from the Climate Solutions & Equity grant. Farmers are at the frontlines of climate change. We also understand their work to steward the land and feed communities is already extremely challenging.
As we witness the impact of climate change, farmers are becoming increasingly vulnerable as they face an increased number of severe weather events and patterns, high heat, degradation of natural resources, and rising pests and disease pressure.
Climate smart farmers attempt to mitigate the effects of climate change by incorporating crop rotation, cover cropping, and reduced tillage to build soil organic matter and sequester carbon while improving energy efficiencies with alternative energy systems.
The Climate Smart Farmer Program (CSFP) will prepare Black and Brown farmers from Southeast Georgia with the adaptation and mitigation tools that build resilience and maintain productivity in the face of climate change. Farmers applied to join the inaugural cohort, which will include ten farmers. This cohort will receive technical assistance, on-farm investments, and more to boost their farms' climate resiliency.
In year one, Climate Smart Farmer Program farmers will work to incorporate or expand their conservation agriculture practices. Georgia Organics and McIntosh SEED will assist farmers in accessing NRCS (Natural Resources Conservation Service) resources through technical assistance on the EQIP (Environmental Quality Incentives Program) application process.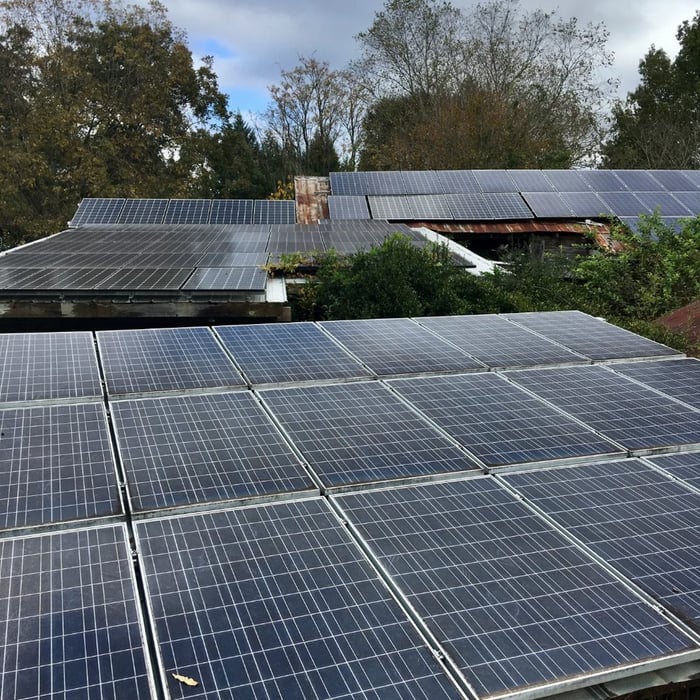 Solar panels fully power operations at 3 Porch Farm.
In year two, Climate Smart Farmer Program farmer members will work to add a small-scale solar array system to their farming operations. Georgia Organics and McIntosh SEED will provide technical assistance for the REAP (Renewable Energy for America Program) application process.
How did your organizations come to collaborate on these agriculture projects?
McIntosh SEED and Georgia Organics have more than a decade-long history of partnership as organizations serving farmers and working to address food insecurity. Throughout this partnership, Georgia Organics has provided coaching, mentoring, technical assistance, and capacity building for McIntosh SEED farmers transitioning to organic growing practices. Georgia Organics has also offered scholarships for McIntosh SEED farmers to attend the Georgia Organics Conference & Expo.
McIntosh SEED has been a critical partner in providing outreach to farmers in the region, especially in promoting workshops on developments in sustainable agriculture. We also worked to develop a Food Working Group to address food insecurity in the area and increase access to locally grown food.
Working with farmers in Southeast Georgia for Georgia Organics' Family Farm Share initiative (piloted in Waycross and now expanding further into Southeast Georgia) and through managing the Farmer Fund. Emergency Relief arm, Georgia Organics has witnessed first-hand farmers' increasing vulnerability due to climate change and how that impacts the communities they serve. Seeing the need to support farmers to be more resilient in these challenges, the organization began to develop more direct services to prepare farmers with adaptation and mitigation tools.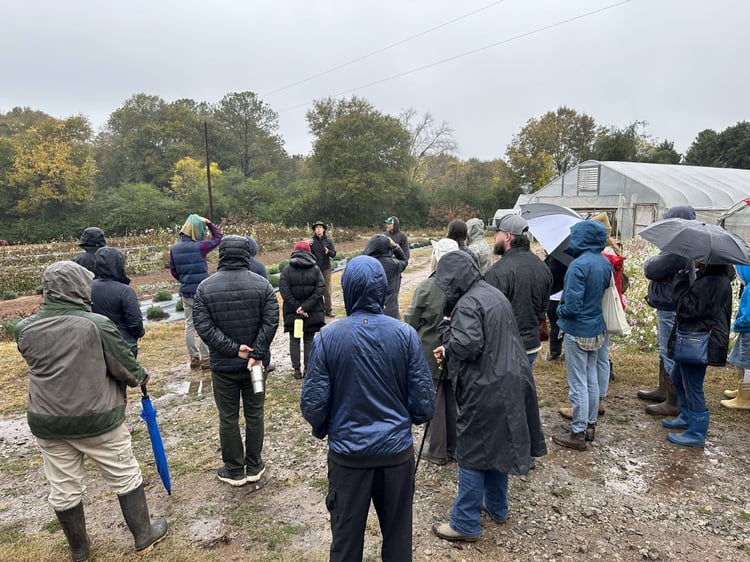 A rainy Farmer Field Day at 3 Porch Farm. Photo by M.F. Espinoza.
In this context, Georgia Organics and McIntosh SEED crossed paths again. This connection led to the two organizations collaborating on the Climate Smart Farmer Program. Georgia Organics brings its experience with sustainable agriculture and technical assistance together with McIntosh SEED's expertise in helping farmers navigate applications for federal grant programs (EQIP and REAP) and its network of farmers.
How do climate smart agriculture and rooftop solar fit together? Why are these types of projects beneficial to Georgia farmers, and why are they good climate solutions for Georgia, as well?
We aim to arm farmers with various adaptation and mitigation tools in the face of climate change. In addition to incorporating or expanding conservation agricultural practices that sequester carbon in the plants and soil, farmers also have an opportunity to incorporate solar as a climate solution on their farms.
As farmers face more days with extreme heat, they will require additional energy for walk-in coolers, poultry, and packing houses. Because solar energy is a renewable, carbon-free resource with enormous potential to reduce GHG emissions, it is a crucial climate solution for farmers and Georgia. Solarization will also lower the energy cost for farmers, with the potential to generate revenue through energy buy-back programs.
How can people follow the climate smart agricultural work you do?
To learn more about our work, we encourage people to visit the Climate Smart Farmer Program page of the Georgia Organics website and mcintoshseed.org.
People can follow our work by signing up for Georgia Organics Farmer Services' e-newsletter, Grower News, and on Georgia Organics' blog, the Dirt.
For questions, contact us at farmerservices@georgiaorganics.org.
Stay Up to Date on the Progress of Climate Solutions & Equity Grant Projects
Don't miss out on future blog posts sharing updates from Georgia Conservation Voters Education Fund and Truly Living Well as we continue to highlight the recipients of the 2022 Drawdown Georgia Climate Solutions & Equity grants.
Subscribe to receive notifications about future blog posts now.