Did you know that Georgia is the #1 forestry state in the country? Almost 60% of the land in our state consists of temperate forests. Right now Georgia's 22 million acres of working forests offset about 8% of our state's CO2 emissions. This is why planting trees is such an effective climate solution for our state: expanding our forests by just 3.5% would help reduce emissions by 1 megaton--that's 100 million metric tons.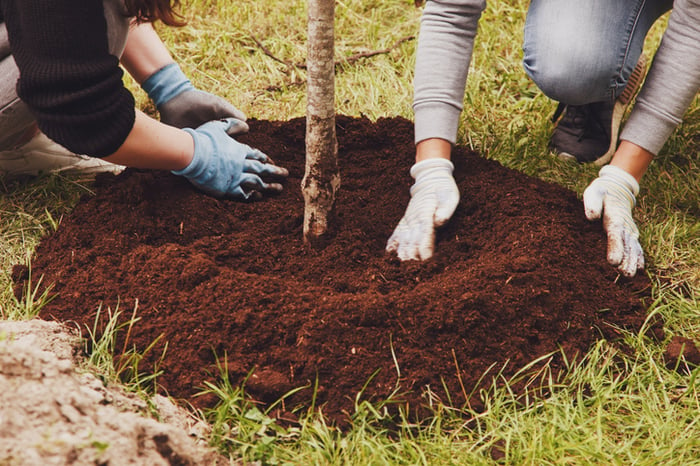 Trees are the ultimate symbol of our interdependence on nature. We rely on their fruit for sustenance, their branches for shade, and their magical ability to absorb carbon dioxide from the air. We literally cannot live without trees.
When we think of ways we can help curb climate change, planting trees is always an appealing solution. It's hands-on, it's fun for all ages, and we know the benefits of our actions. Trees can also have a religious significance, as in the Jewish tradition of planting trees for the holiday Tu B'Shvat.
Confession: I had to google Tu B'shvat to refresh my memory about this upcoming Jewish holiday. In fact, since becoming Georgia Interfaith Power and Light's (GIPL) Community Organizer for the Jewish community in May 2021, I've had to really dust the cobwebs off my internal library of Jewish holidays.
No disrespect to my brief stint in Jewish Day School, but relearning the rituals and the texts that guide our Jewish traditions as an adult has been transformational. Exploring the roots of why we plant trees for Tu B'Shvat has reinvigorated my connection with the trees and illuminated my awareness of their incredible strength and vulnerability.
So why do we plant trees for Tu B'shvat? Let's discuss.
The Torah states, "When you enter the land [of Israel] and plant any tree for food, you shall regard its fruit as forbidden. Three years it shall be forbidden for you, not to be eaten" (Leviticus 19:23). Seems pretty clear. But remember, this is before our handy smartphones and chirping calendar reminders. How did farmers remember when to mark each year? Well, the Rabbis came up with an answer: the 15th day of the month of Shevat.
The month of Shevat is the fifth month of the Hebrew calendar, and it typically falls in late January/early February. If you find yourself in Israel during this time of year, you will be walking on soil that is abundantly saturated with water as January is often the month closing out the rainy season. The soil is ripe for planting new trees. The Rabbis and farmers agreed that this time of year is ideal for tree planting and harvesting.
The "Birthday of the Trees" is hence declared as Tu B'Shvat: Tu = pronunciation of Hebrew letters for the number 15, Shevat is the fifth month of the Hebrew calendar. Huzzah!
The Atlanta Jewish community has regularly held an annual tree planting in honor of Tu B'Shvat, and this year we are so thrilled to partner with Trees Atlanta to offer three tree plantings to the community!
One of our first tree plantings this year took place on Monday, January 17th, which is both Tu B'Shvat and the day we honor the legacy of Dr. Martin Luther King Jr. We joined many community members to plant trees at South View Cemetery, which is where Dr. King was buried before being moved to the King Center in Atlanta. Two additional tree plantings will be held on Sunday, January 23rd at Hammond Park in Sandy Spring and Brook Run Park in Dunwoody on Saturday, February 5.
The aligning of Tu B'Shvat and Martin Luther King, Jr. Day is also significant. We cannot combat the climate crisis without achieving social justice. We know firsthand that our most vulnerable and disenfranchised populations are often hit first and worst when it comes to climate change. Lower valued properties are frequently flooded, polluted, and shadeless. Children in these neighborhoods often have patches of asphalt, which also translates to hotter local temperatures, as play surfaces rather than tree-lined parks.
Planting trees in these "heat islands" is indeed part of the solution, however, we can do even more. We can recognize we all have a role to play, and we are better and stronger together, one tree at a time.