Education is key when it comes to scaling climate solutions, and can be even more effective when the content is delivered in a fun and engaging way.
That's the premise behind Solved! The Drawdown Georgia Climate Solutions Card Game, an interactive, team-based approach to learning about the high-impact solutions of Drawdown Georgia.
How do you play the game, and what was the inspiration for this collaborative new way to connect and teach about climate solutions? Read on to find out.
How to Play Solved! The Drawdown Georgia Climate Solutions Card Game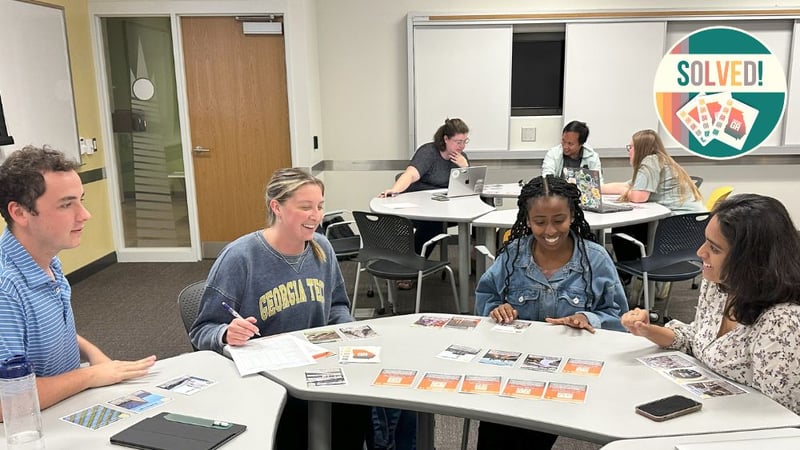 The objective of Solved! is for players to imagine how we can significantly reduce Georgia's net greenhouse gas emissions by 2030 by using the 20 high-impact solutions of Drawdown Georgia. Players break into 2 to 5 teams of 4 to 5 players each, and play the game with two decks of cards: Solution Cards and Wild Cards:
Solution Cards are ranked from 1-20 based on its amount of reduced CO2, and the cards must be played in numerical order to count towards the overall carbon reduction goal.

Wild Cards represent random, real-life events such as technological breakthroughs and natural disasters, which can help or hinder the team's overall progress.
Players work together to determine which solutions have the greatest impact and strategically play them to reach Georgia's carbon reduction goals. Through gameplay, which usually lasts from 45 to 90 minutes, participants learn about carbon reduction efforts in Georgia and the unique attributes of each one.
The team with the lowest net emissions after five rounds of gameplay is the winner.
Teaching and Team-Building with Solved!
Solved! is an engaging way to educate high school and college students about localized climate solutions, but the game is also an ideal team-building exercise for nonprofits, advocacy groups, and corporate sustainability teams.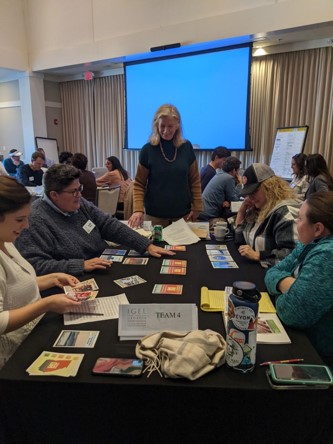 Just like in life, teamwork and collaboration are key to solving for climate change and playing the cards in the correct order. Each player's unique educational and professional background aids in helping the team reach its goal.
The Inspiration Behind the Climate Solutions Game
The idea for the game Solved! was conceived in the summer of 2021 through a partnership of Georgia Tech faculty and graduate students, the Ray C. Anderson Foundation, and the Institute for Georgia Environmental Leadership (IGEL), an experiential environmental education program that provides participants with knowledge, skills, and a professional network to solve Georgia's environmental challenges.
The end goal was for the 2020/2021 IGEL Class to play this game at their annual summit meeting in Serenbe, GA, in January 2022. The activity was designed to fit perfectly into the IGEL curriculum by promoting teamwork and collaboration while teaching players about Drawdown Georgia.
The Development of the Solved! Climate Solutions Game
Work on the game began in the summer of 2021 and continued throughout the fall semester. Drawdown Georgia researcher Dr. Marilyn Brown and a core group of Georgia Tech graduate students, including Ollie Chapman, Max Koptik, and Chris Contos, co-created the vision for the game.
We knew from the start that the game needed to represent the Drawdown Georgia solutions in a fun, easy-to-follow format, while also showcasing its scientific foundation.
We developed a deck of playing cards to represent the 20 solutions, along with "wild cards" that symbolize positive, negative, or neutral real-life events that impact carbon reduction efforts. In addition, Lalith Polepeddi from Georgia Tech's Global Change Program created a digital leaderboard based on Drawdown Georgia's Carbon Reduction Visualizer to keep track of each team's progress and give players a way to visualize their overall impact on CO2 reduction.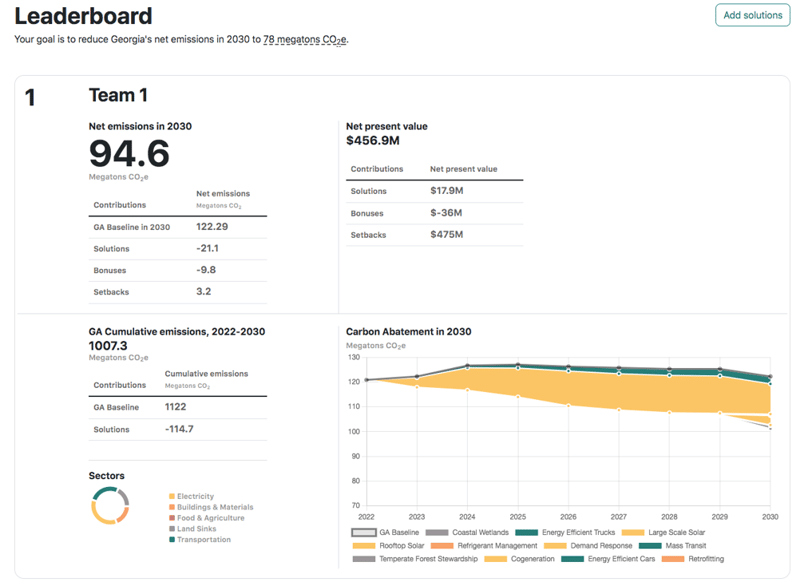 Several trial games were conducted on Georgia Tech's campus with the help of students in Georgia Tech's Master of Sustainable Energy & Environmental Management program and its Energy Club, as well as leaders of IGEL, Drawdown Georgia, and the Ray C. Anderson Foundation. Those test runs made the game better – the cards, rules, and leaderboard were edited and improved until the final version was ready for the IGEL meeting.
Ready to Play? Get the FREE Game Materials Now
Do you want to bring Solved! The Drawdown Georgia Climate Solutions Game to your classroom or organization? Click below to learn more about how to play and download game cards and instructions now.