Fulton County Schools made headlines on Earth Day in 2021 when the district added the first Blue Bird electric school bus to their fleet. Why all the excitement?
School officials touted the benefits of electric school buses, from reduced fuel and maintenance costs to cleaner air. But K-12 schools aren't the only institutions that can benefit from electric buses.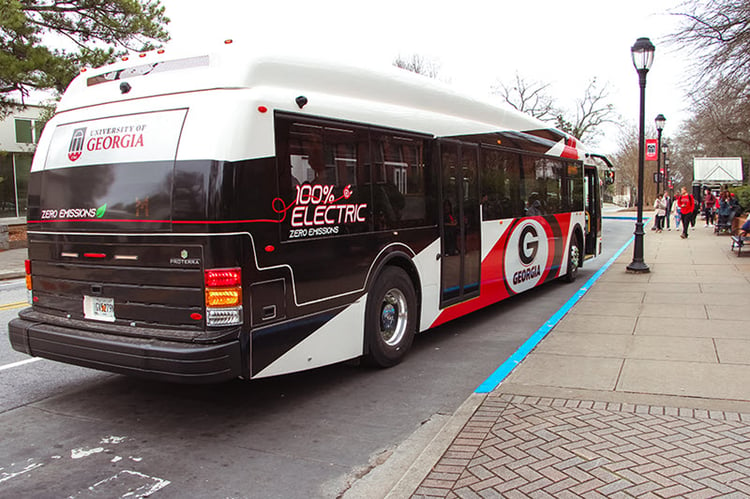 The University of Georgia (UGA) is also employing electric buses to reduce emissions. The new buses offer a green option to UGA's nearly 40,000 students for navigating the school's 762-acre campus in Athens, Georgia.
The university-wide initiative began in 2015 through an initial collaboration of Auxiliary Services, Finance and Administration, the Student Government Association, the Office of Sustainability, and the College of Engineering that first identified electric buses as an evidence-based solution that could help the university reach its strategic goal of advancing sustainability. The UGA Office of University Architects, Facilities Management Division, and Department of Geography soon joined the team. In addition to these university offices and departments, UGA also partnered with community organizations and utilities including Georgia Power and The Center for Transportation and the Environment (CTE), an Atlanta-based nonprofit that provided technical evaluations and infrastructure and bus testing support.
It would be four years of hard work before the first electric buses would make their way onto the Athens campus. The first 20 Proterra electric buses hit the streets in 2019 and were purchased through a combination of two funding sources. UGA received a grant for $10 million from the Georgia State Road and Tollway Authority, and the university's Auxiliary Services contributed $7.5 million. UGA was later awarded $7.46 million from the Federal Transit Administration's Grants for Buses and Bus Facilities Program. With this grant and another contribution from the school itself, 13 more buses were purchased in 2021, bringing the current fleet size up to 33, making UGA's one of the largest electric fleets in the entire country.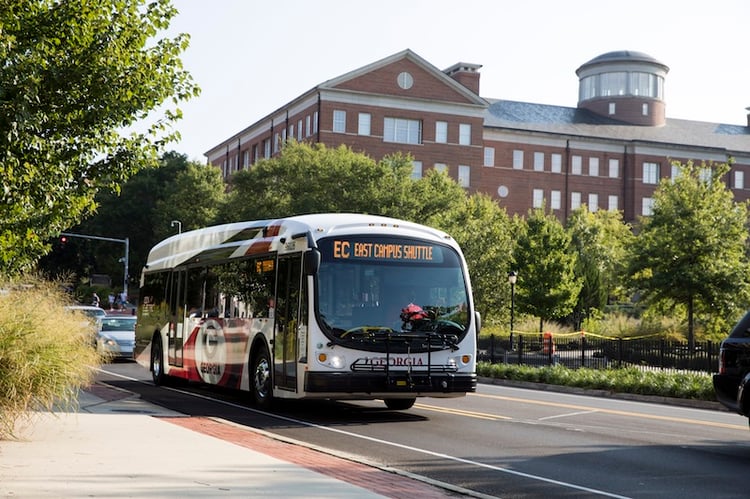 The buses are yielding benefits across campus. The electric fleet reduces net greenhouse gas emissions by 70% compared to diesel buses, preventing over 4.5 million pounds of carbon emissions annually. The lack of diesel tailpipe emissions is creating a cleaner environment on campus, which is a health benefit for all bikers and pedestrians. The electric buses are also saving the university money. When accounting for fuel, maintenance, and depreciation, diesel buses cost between $150-200 per day to operate; each new electric bus costs only $14 per day in comparison. Additionally, each electric bus may last up to 30 years, which is more than twice the life expectancy of a diesel bus.
"This is a massive upheaval in status quo," said Jason Perry, a sustainability specialist formerly with the Office of Sustainability. "And it was important for students to be involved from the onset. I think it means a lot to the students that we're willing to make this big of a change," added Perry.
And students continue to engage with the initiative. Capstone groups from the College of Engineering are working with Auxiliary Services to study the bus charging station and suggest improvements for efficiency. These groups also have developed plans to outfit the area with a solar panel canopy that can be used to power the bus' chargers, and are exploring other ways the bus batteries might be used to provide power across campus. While this plan is on hold due to the pandemic, it is indicative of the university's commitments to sustainability and student-led innovation.
The solar canopy is just one part of UGA's future sustainability plans. The school intends to continue to expand their electric fleet, with a long-term goal of having 50 electric buses and 20 more powered by other alternative fuel sources. The school has no intention of purchasing another diesel-powered bus ever again. Before the COVID-19 pandemic, bus ridership was increasing, and the university hopes their commitment to electric buses will continue to attract students to sustainable options like public transit.
For more information on UGA Transportation & Parking Services' electric buses, please visit tps.uga.edu.
In July 2021, Drawdown Georgia and the Georgia Climate Project launched Drawdown Georgia Higher Ed as an effort to explore climate action in the classrooms and operations of colleges and universities across Georgia. One of the ways in which we are celebrating these climate efforts is to highlight success stories of higher education taking a leadership role in climate action.