Drawdown Georgia is pleased to announce a new climate initiative for Georgia colleges and universities in this post by Carys Behnke, Rachel Usher, and Kim Cobb. Read on to learn about this exciting project that will support institutions of higher education as they reduce emissions while they lift up the changemakers of today--and tomorrow.
A new initiative hopes to champion institutions of higher education as critical actors on the road to carbon neutrality in our state. Drawdown Georgia Higher Ed, launched this summer under the guidance of The Georgia Climate Project, is a growing consortium of colleges and universities highlighting the risks associated with climate change and the opportunities for climate solutions across Georgia. Inspired by Drawdown Georgia, which has identified the most impactful levers for large-scale emissions reductions across the state, this new initiative seeks to provide the resources and guidance colleges and universities need to take action on a wide variety of climate solutions.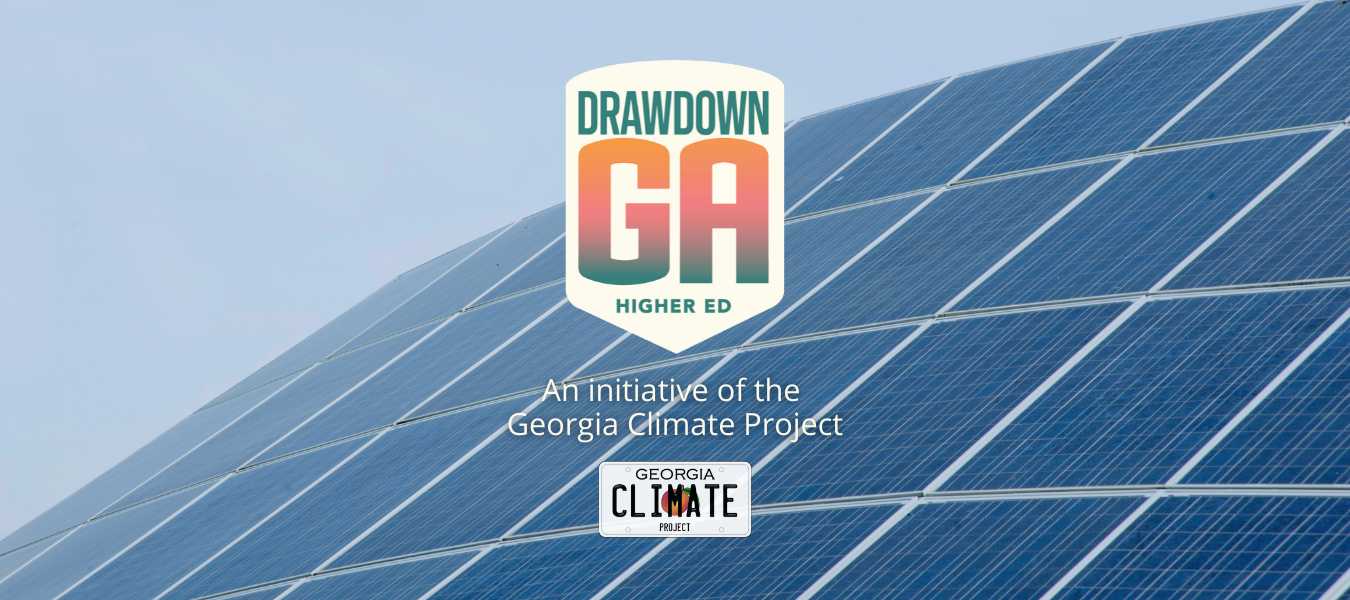 From an emissions perspective, the largest campuses actually function like mini-cities, with electricity, transportation, and waste streams creating large institutional carbon footprints. Even the smaller campuses each have a carbon footprint that, when reduced, will contribute significantly to local climate action. While sustainability champions have worked hard over the last decade to develop and deploy carbon reduction strategies at many campuses, Drawdown Georgia Higher Ed seeks to explore avenues for collective climate action in the classroom and in operations. These actions will result not only in emissions reductions but also in cost savings.
In its initial phase of work over the next year, Drawdown Georgia Higher Ed will focus on three key areas:
Highlighting examples of higher education's leadership in climate action

Curating open access curricular resources to assist in training the next generation of climate leaders

Compiling and sharing existing greenhouse gas emissions inventories, institutional goals for emissions reductions, and best practices for climate action planning in higher education
Each of these components works together to promote and accelerate Georgia's higher education institutions as leaders in climate mitigation strategies, including taking action on Drawdown solutions.

Drawdown Georgia Higher Ed is celebrating the many Georgia colleges and universities leading the way on climate efforts, while also bolstering their current work to scale the Drawdown Georgia climate solutions. Many of these success stories will be shared through The Georgia Climate Project, where a diverse array of academic partners share their progress with the broader public.

The academic partners also aim to center the voices of a large and diverse contingent of college students in the state by publishing and co-developing curricular resources about climate mitigation options specific to Georgia. The Drawdown Georgia Higher Ed open-source repository will include syllabi, modules, and teaching strategies from Georgia educators on topics such as emissions trajectories, mitigation scenarios, low-carbon energy technology, nature-based climate solutions, climate resilience strategies, climate justice, and more.
A university emissions tracker will bring efforts into focus by aggregating and visualizing where individual institutions stand on their path to carbon neutrality. This interactive graph and web portal will capture current and historic emissions trends.

Drawdown Georgia Higher Ed is launching with pioneering partners from Agnes Scott, Columbus State, Emory University, Georgia Tech, and University of Georgia, who have already begun taking steps to bring these projects to fruition. Carys Behnke, a graduate student at Georgia State, is working this summer to assemble curricular resources and identify impactful climate solutions that have been implemented at partnering schools. The team hopes to launch the curricular resource tool in the Fall of 2021, with features about campus-based climate solutions published over the coming months. Work to identify the scope and design criteria for a campus emissions tracker will also get underway this summer, in the hopes of completing the tool over the next academic year.