Why have a climate conference focused on women? Women around the world are more likely to be negatively impacted by the environmental degradation, social violence, and political instability that are caused by climate change. This also means that they are crucial agents of change as we transition to a more just, zero carbon future.
This fall our friends at Agnes Scott College convened the second annual Women's Global Leadership Conference, "Building a Better World: Women & Climate". The event brought together political leaders, scholars, private sector experts, and community activists with a goal of solving for climate change through intentional conversations, forming new and innovative partnerships for addressing climate injustice, and seeking out creative strategies to build more resilient communities.
At this year's conference, Drawdown Georgia hosted a special session, "Advancing from Analysis to Action: The Drawdown Georgia Initiative." Moderated by Blair Beasley, director of climate strategies at the Ray C. Anderson Foundation, the session introduced the Drawdown Georgia roadmap of 20 climate solutions that will advance decarbonization, along with other priorities that go Beyond Carbon, including equity, the larger environment, public health, and economic development.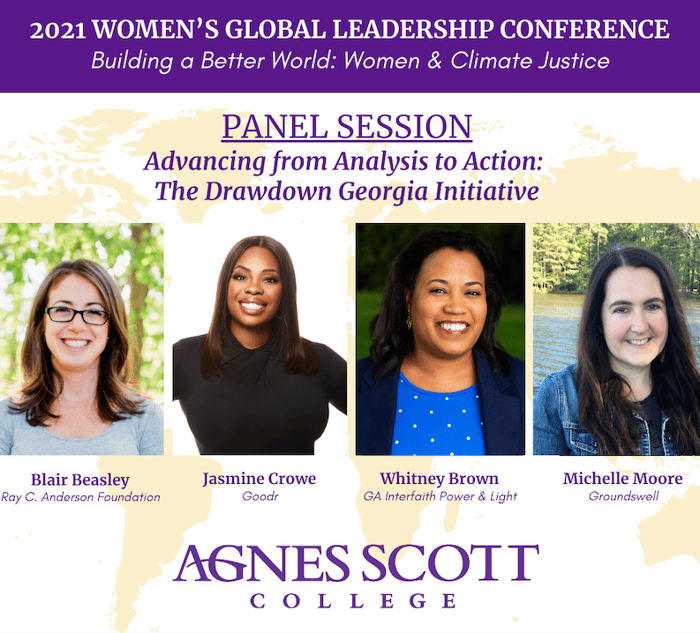 Blair was joined by an inspiring panel of Georgia-based thought leaders including:
Whitney Brown, communications director for Georgia Interfaith Power & Light (GIPL), a faith-based environmental non-profit that empowers people of faith across Georgia to take climate action and advocate for environmental justice.

Jasmine Crowe, founder & CEO of Goodr, a sustainable waste management company that leverages technology to combat hunger and reduce food waste in landfills.

Michelle Moore, CEO of Groundswell, a nonprofit that builds community power by connecting clean energy with economic development, affordability, and quality of life.
During the session, the panelists each explored how they are working to equitably scale solutions, including reducing food waste, increasing energy efficiency in homes and houses of worship, and growing rooftop solar - all efforts that reduce greenhouse gas emissions while also helping to lift up communities across Georgia.
Watch the full session above, or visit the conference website to find this and other recordings from the event.