Have you heard of the East Coast Greenway? It's an exciting new network for cycling and walking that Georgia is a part of.
Why Bike or Walk Instead of Driving?
Choosing to bike, walk, or scooter to your destination instead of jumping in the car for short trips is a great way to reduce transportation emissions in Georgia. How big is our impact when we make this simple change to our routines?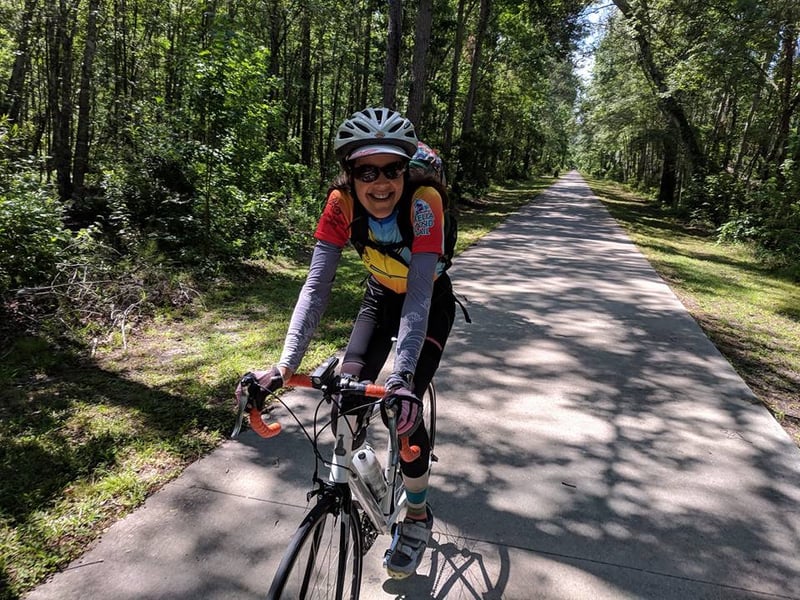 In 2021, vehicles accounted for about 41% of the state's GHG emissions -- our single largest source. We can reduce emissions in our state by one megaton--that's one million metric tons--if we eliminate just 2.5% of our car trips by 2030.
To help promote biking, walking, and other methods of alternative transportation, Georgia cities and counties have to invest in the infrastructure needed to make biking and walking safe and enjoyable – and it's happening!
One of the most exciting projects currently underway is the East Coast Greenway.
Biking or Walking from Florida to Maine on the East Coast Greenway
The plan for the East Coast Greenway will transform the 15 states and 450 communities it connects from Florida to Maine through active and healthy lifestyles, sustainable and equitable transportation, community engagement, climate resilience, and tourism.
When complete, the Greenway will offer a safe place for bicyclists, walkers, runners, and more — of all ages and abilities — to commute, exercise, and explore new destinations, including scenic coastal Georgia.
Today, over 1,000 miles of the route are completed — more than 35 percent — with new segments being added each year. With 50 million annual visits, the East Coast Greenway is the most visited park in the country.
When finished, East Coast Greenway will consist of a continuous network of traffic-separated, paved, and unpaved trails suitable for all modes of alternative transportation. In rural areas, the Greenway may exist as a riverbank path or asphalt trail along a country road, whereas in suburbs and cities it could be a concrete multi-use path or a protected bike lane and sidewalk.
While out for a day's stroll or ride on the Greenway, you may encounter people traveling between neighborhoods, from state to state — or covering the distance of the entire East Coast. More than 100 cyclists, a handful of walkers, and one runner have already completed the entire East Coast Greenway route.
Plans for the East Coast Greenway in Georgia
In Georgia, the envisioned East Coast Greenway route links mainland communities across six coastal counties. The trail network will connect the cities of Savannah, Richmond Hill, Darien, Brunswick, Kingsland, and St. Marys to cultural sites, rivers, waterways, and the unique natural habitats of the coast.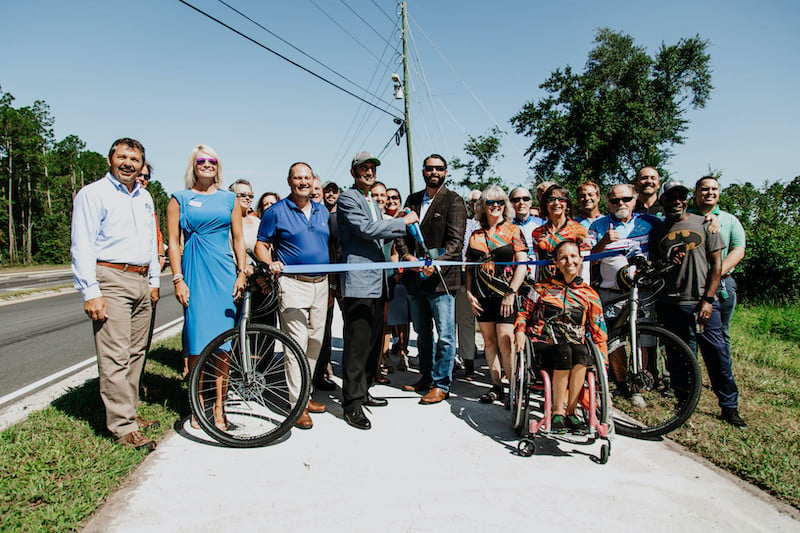 Of the 15 states that make up the Greenway route, Georgia has the least amount of completed trail, but a growing number of volunteers, regional and municipal officials are working to make a continuous trail a reality.
Exploring the Tide to Town Urban Trail System in Savannah
Despite the slower development in coastal Georgia, there are still plenty of East Coast Greenway highlights for residents and visitors to explore. The iconic, massively popular River Street promenade on the Savannah waterfront, as well as the city's charming, eminently Instagram-able Forsyth Park, represent the northernmost sections of the Greenway.

For now, the Greenway route follows green-painted bike lanes through the historic district, but the city of Savannah and Chatham County are working to develop a 30-mile network of bicycle and pedestrian paths, known as the Tide to Town urban trail system, the northwest portion of which runs along a historic canal and will be the permanent route for the Greenway.
Safer Bike Paths in Bryan County, Georgia on the East Coast Greenway
Much of U.S. Highway 17 south of Savannah already features a striped bike lane to Richmond Hill, and Bryan County, in partnership with the East Coast Greenway Alliance team, has developed a master plan for creating an even safer corridor of fully traffic-separated trails.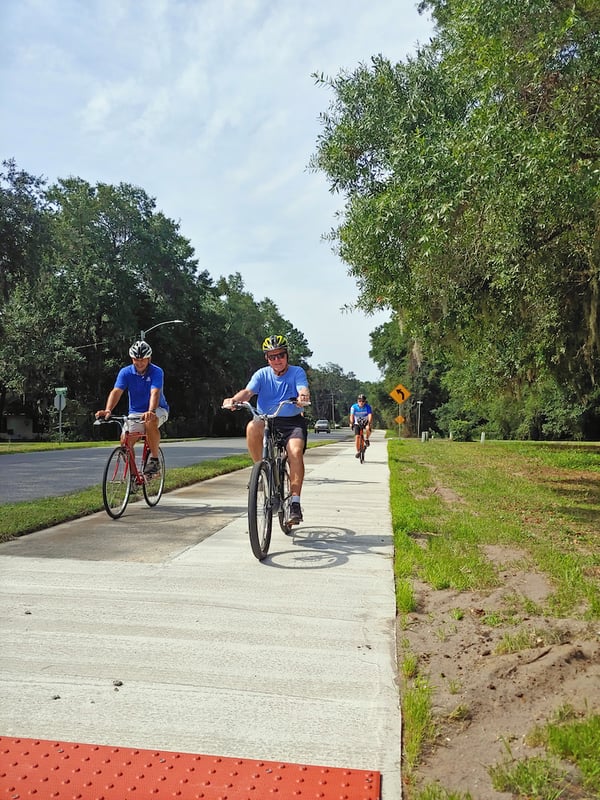 As more federal and state funding is dedicated to active transportation projects, rural areas and small towns such as Midway and Riceboro will see greater opportunities to continue a paved path along the highway to Darien, whose residents already enjoy a 3-mile segment of completed East Coast Greenway known locally as the Highlander Trail.
This concrete multi-use path connects the scenic Ridgeville neighborhood to the Fort King George State Historic Site and the beautiful, shrimp boat-lined Darien waterfront. A fully-funded Georgia Department of Transportation bridge replacement project will extend protected walking and bicycling facilities from there to Rhetts Island. Nearby, the historically significant Butler Island Plantation site, Colonial Coast Birding Trail viewing platforms, and Hofwyl-Broadfield State Historic Site flank the Greenway route.
Biking and Walking Paths in Southern Coastal Georgia
In Glynn County, the growing Bike Walk Golden Isles advocacy organization is working with supportive City of Brunswick officials to extend the Liberty Ships Trail and connect bike-ped facilities in the historic center of Brunswick.
Existing and planned trails already provide much-needed space for active recreation and transportation in underserved neighborhoods. At the same time, the county and Jekyll Island Authority are making notable progress in connecting to the Greenway route to foster an "Island Hopper Trail," linking Brunswick with the beloved beach vacation destinations of St. Simons and Jekyll islands.
Camden, the southernmost coastal county, is developing its own regional trail system, the Three Rivers Trail, connecting the Satilla, Crooked, and St. Marys Rivers. Most of this network is co-located with the Greenway, and more than half has been constructed. Key connections between existing paths are in advanced planning stages, and, most exciting of all, St. Marys and Fernandina Beach, Florida, leaders are actively working toward the launch of a bicyclist and pedestrian-focused ferry service which will connect the Three Rivers Trail with the captivating East Coast Greenway trails of Amelia Island.
Enjoy the East Coast Greenway and Reduce Your Transportation Emissions
Every mile added to the Georgia portion of the East Coast Greenway offers you more opportunities to bike or walk instead of driving, so you can participate in the drawdown of transportation carbon emissions. Happily, we can all look forward to many coastal Georgia ribbon cuttings and newly designated trail segments in the coming months and years.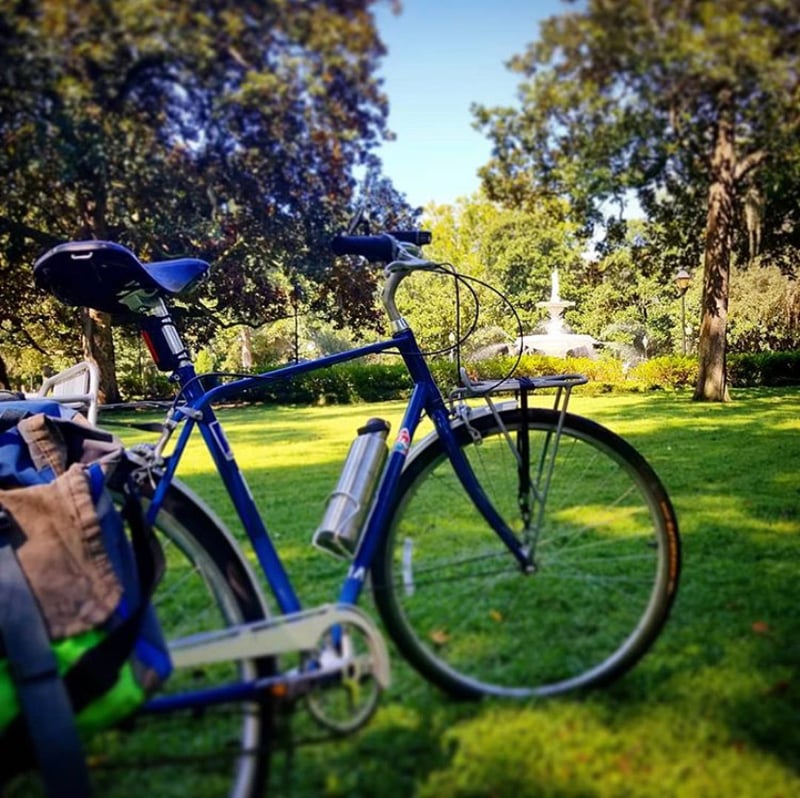 Visit greenway.org to learn more about the East Coast Greenway, plan a visit, and support this work in Georgia and beyond.
Keep up to date on all the climate news in Georgia by subscribing to the Georgia Climate Digest now!