What New Year's resolutions are you making for 2023? And when you are choosing your resolutions, are you keeping their impact on climate in mind? So many climate solutions can actually do double-duty and improve your health, nutrition, and fitness.
If you're looking for a way to combine these priorities, these ideas may inspire your 2023 resolutions. You'll then be able to feel healthier while also taking action on climate.
What's the Connection Between Climate, Healthy Diets, and Regular Exercise?
Did you know that doing good for the planet can often be good for your body, too? Let's start with regular exercise.
If you've resolved to exercise more often, then biking, walking, or taking public transit to work or run errands is a simple way to add more physical activity to your routine. At the same time, you reduce emissions from not driving a gasoline-powered form of transportation.
Meanwhile, if you are looking to eat a healthier diet, then adding more plant-based foods like fruits, vegetables, legumes, and whole grains to your plate is a great way to achieve your nutrition goals. Not only are these foods nutrient-dense, but they create fewer emissions than conventionally-raised meat and poultry.
Inspiration for Resolutions That Are Good For Your Health and Our Climate
We asked the team at the Ray C. Anderson Foundation - a funder and founding partner of Drawdown Georgia - to share their favorite ways to incorporate habits that promote health AND help to reduce emissions in Georgia.
We hope these ideas inspire you in 2023!
Tips for Getting in More Steps Every Day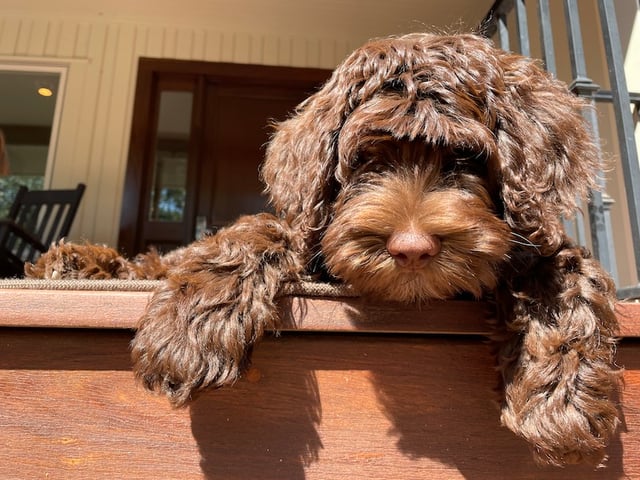 1. Adopting a dog is a great way to add more walking to your routine! Above is a photo of our new puppy, Bruno. He has increased our family's walking ten-fold.
2. We love to take our two kids to Arabia Mountain and the Silver Comet Trail. They are both great options for walking, running, biking and scooters.
-- Blair Beasley, Director of Climate Strategies
Bicycle Trails and Shops in Georgia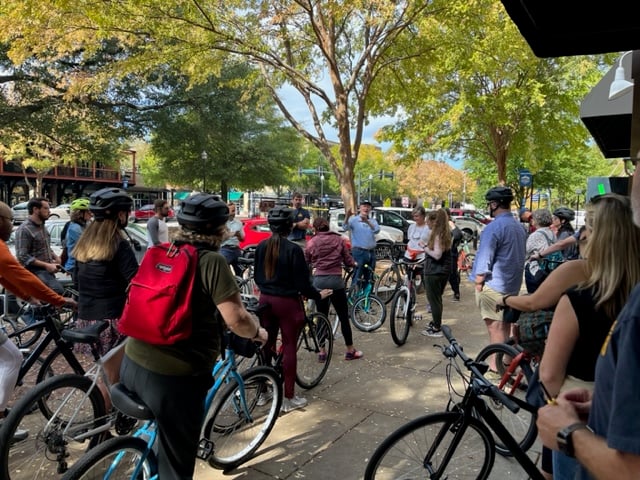 1. I don't get to bike much, but I thoroughly enjoyed getting the chance to get out and explore the Dragonfly Trails in Columbus, Ga. recently with the Institute for Georgia Environmental Leadership (IGEL). I'm in the 2022 IGEL class. I'm definitely planning to return to Columbus with my family where we can explore more!
2. Favorite Bike Shop: Ride On Bikes in Downtown Columbus, GA.
3. Favorite Spot in Nature: I checked an item off my bucket list this summer. For many years, I had heard about snorkeling at the Conasauga Snorkel Hole in the Conasauga River on the Georgia/Tennessee border. This hidden gem was a little bit tricky to find, but well worth the adventurous day trip. Many species seen there don't exist anywhere else in the world.
-- Valerie Bennett, Director of Communications
3 Tips for Enjoying a Plant-Forward Diet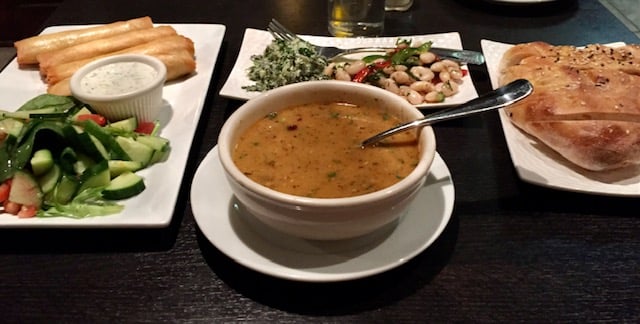 1. A great cookbook recommended to me by a vegan friend is Chloe Flavor by Chloe Coscarelli - easy and flavorful vegan cooking.
2. One of my favorite vegetarian recipes that I have in regular rotation is Turmeric and Coconut Braised Cabbage with Chickpeas. It's so flavorful, made with inexpensive and easy-to-find ingredients, and also delivers the health benefits of turmeric and ginger.
3. A favorite way I eat more plant-based meals - especially when going out to restaurants with my meat-loving family - is to order multiple appetizers, or a salad, soup, and a veggie side as my meal. Many of these smaller items are meatless or have significantly less meat, and ordering a few lets me sample different flavors.
It's a nice departure from a salad or the ubiquitous hummus platter - just make sure to tell your server to bring your items out at the same time as everyone else's.
-- Lori Blank, Director of Grants and Operations
3 Tips to Exercise More While Reducing Carbon Emissions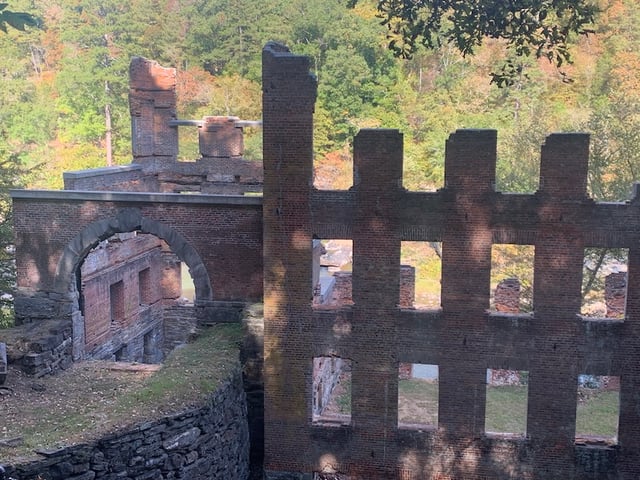 1. Taking MARTA more often helps with physical health. You'll end up walking more than you would if you just drove a vehicle directly to your destination.
2. For those who work in an office building with an elevator, consider taking the stairs every once in a while. It's a good workout, especially for those on the higher floors in the city, and those elevators run on electricity, so fewer trips can reduce the energy consumption of the building.
3. Sweetwater Creek State Park and the walk along the Chattahoochee River to the Mill Ruins have become favorite hikes for our family.
-- John Lanier, Executive Director
Follow Drawdown Georgia in a New Year of Scaling Climate Solutions
Whatever your New Year's resolutions may be, we hope that taking action on climate in our state is among your personal goals for 2023! Be sure to follow us on Instagram, LinkedIn, Twitter, and Facebook to stay connected to the movement.
Click the button below to subscribe to our blog so you never miss a post.
Happy New Year from all of us!