Universities across Georgia are examining climate solutions in their courses, and for the last 15 years, Professor Valerie Thomas and I have team-taught a course that has engaged grad students at Georgia Tech in assessing clean energy and climate technologies. This year, we took our teaching one step further by asking 57 graduate students to focus specifically on the 20 high-potential solutions identified by Drawdown Georgia. The students applied their expertise in wide-ranging fields -- from engineering, chemistry, and biology to public policy, business management, and city planning. They drew on their international experience, internships, and on-the-job experience to bring creative thinking to their research.
Exploring Climate Solutions Beyond Carbon
Because they understand the technical and regulatory aspects of energy systems, the students were well-equipped to dive deep into technical and social science issues and to offer ideas to improve on solutions to solve for climate change. These studies complement the research done on high-impact solutions identified by the Drawdown Georgia Working Groups under my leadership. Four of these projects are highlighted here.

Beyond Carbon: The Energy Burden
One group studied a key equity indicator known as energy burden, which is the percentage of a household's mean income spent on energy bills. Using the U.S. Department of Energy's Low-Income Energy Affordability Data (LEAD) tool, the students found that Georgians with incomes below the federal poverty line have energy burdens of 18-24% compared to 3% for the average Georgia household. Students examined the ability of Pay-as-You-Save (PAYS) programs to finance building retrofits that mitigate high energy burdens. PAYS programs have access to a market double the size of that available to debt-based financing. Furthermore, larger projects can be funded, achieving greater carbon abatement and cost savings. Low-income households who are the most marginalized and least able to find financing can also be served, as is the case with the LaGrange Save On Utilities Long-term (SOUL) program. SOUL funds the upfront costs of energy-efficiency improvements, and households then repay the investments through their utility bills while enjoying their savings from energy-efficient appliances.
Utility-Scale Solar
Another group focused on utility-scale solar in Georgia, which currently ranks ninth in the nation by the size of our solar power production. To address environmental concerns about such large projects, agrivoltaic installations are underway, co-locating solar panels and crops on the same site. Silicon Ranch is practicing this at its Early County solar farm, which will combine solar panels and sheep pastures, as part of its Regenerative Energy program and in partnership with White Oak Pastures. Renewable energy zones (REZ) are designated areas pre-approved for renewable energy development. This pre-approval considers topography, land use, developer interest and can include wildlife and habitat data. This saves county permitting and environmental boards a substantial amount of time when reviewing projects on a local level. The criteria for a REZ promotes standardization between counties. In addition, it allows nonparticipants of a utility-scale solar project, like members of the community, to understand how the project plans to avoid biodiversity reduction and eco-destruction.
Green Jobs in Georgia
A third group focused on the potential for significant job creation from the solar industry in Georgia. The installation of solar rooftops is one of the largest job generators in the energy industry. However, these job markets are not yet gender or racially diverse. Georgia's workforce is 31% Black, but our solar workforce is only 10% Black; similarly, Georgia's workforce is 45% female, but our solar workforce is only 19% female. Several workforce development programs are addressing this shortfall, including Cherry Street Energy's Shine On initiative. Shine On aims to empower displaced workers through training on renewable energy construction and bridge them with the energy job market. Georgia's solar job footprint also benefits from hosting the largest solar panel assembly plant in the western hemisphere at Hanwha's factory in Dalton, Ga.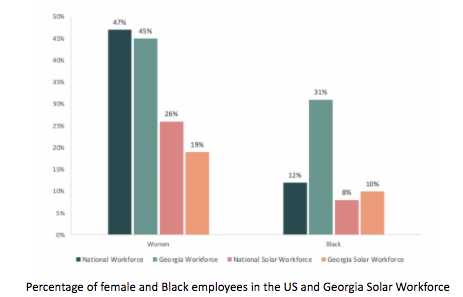 Expanding EV Access
A fourth group examined ways to promote electric vehicles in Georgia. The group estimated that an electric vehicle (EV) tax credit between $3,200 and $10,000 would enable Georgia to put 250,000 EVs on the road, avoiding 1 million metric tons of CO2 each year. To enable rural Georgians to take advantage of this clean car option, access to recharging infrastructure must be expanded. Coupled with financing options for used EVs, Georgians of modest means could also purchase them. And jobs in the industry are growing. The construction of SK Innovation's EV battery plant in Jackson County will make Georgia one of the biggest hubs of battery manufacturing in the country, with more than 1,000 new jobs expected by the end of 2021 and another 2,600 jobs expected by 2024.
You can learn more about these four projects and others by watching the series of 20-minute videos here at the Drawdown Georgia portal at Georgia Tech.