Almost every major religion has an ethic of caring for the natural world and seeking justice for our neighbors. At Georgia Interfaith Power and Light (GIPL), we equip communities of faith across Georgia to take environmental action through education and advocacy. The Drawdown Georgia solutions provide practical steps for congregations to take climate action and lower their personal and institutional carbon footprints. By considering improvements to their facilities, congregations can start to implement these solutions and reduce the amount of energy they consume.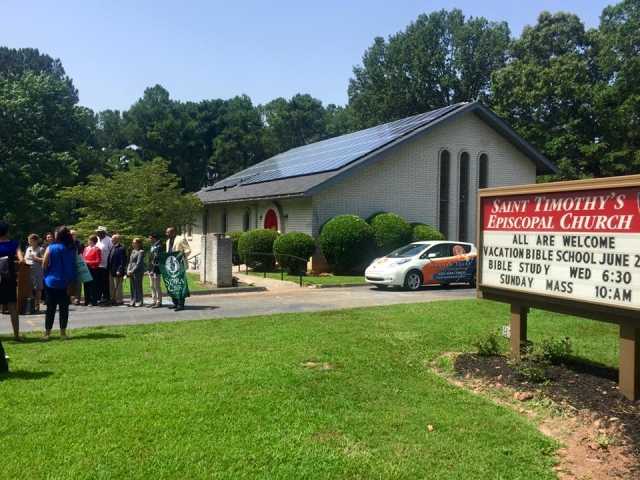 Energy efficiency retrofits is one of the most impactful Drawdown Georgia solutions that congregations can implement on-site. Since 2003, GIPL has performed over 370 energy audits through our Power Wise program to help communities of faith across the state identify energy efficiency upgrades that will help them combat climate change and save money. These upgrades often include switching to LED lights, installing WIFI thermostats, and improving insulation.

In addition to retrofitting their buildings, congregations should also explore solar as a viable energy option to reduce carbon emissions. This solution focuses on replacing fossil fuel energy and reducing the environmental and public health impacts associated with coal and natural gas plants in our communities. Through GIPL's Solar Wise program, congregations and religious schools can receive solar assessments and support throughout the process of procuring and implementing solar energy systems on-site.

There are also many other ways communities of faith can take action on climate. Several Drawdown Georgia solutions offer opportunities for faith communities to introduce new programs and practices into the life of their congregation. As a starting step, we encourage congregations to form a Green Team, which is a group of dedicated individuals who are committed to advancing sustainability and environmental action in their communities.

Green Teams help guide their congregations toward eco-friendly policies and practices. One way that Green Teams can get involved in implementing Drawdown Georgia solutions is by conducting a waste audit to better understand the amount and type of waste their congregation generates. Green Teams can then help their congregations reduce, reuse, and recycle the materials found on site. Additionally, Green Teams can help their congregations write sustainability policies that will guide the community in sustainable purchasing practices and recycling expectations for meals and events. Additionally, congregations can explore ways to reduce food waste by starting to compost at their facility or contracting with a compost company that provides commercial composting services.

Communities of faith play a unique role in serving as environmental leaders for their neighbors and can help to inspire action beyond the walls of their houses of worship as well. Green Teams can help their faith communities organize local events such as a tree planting day or recycling drive to involve community members and model practices for reducing carbon impact and preserving natural resources. Additionally, congregations can help make the Drawdown Georgia solutions accessible to their communities by serving as a community composting site or by installing electric vehicle charging stations in their parking lots.

Our communities can also multiply our impact by providing a powerful voice in advocating for policy change. Justice for the earth cannot be achieved without fully addressing the environmental injustices that impact our neighbors and communities. We must begin to address the systems which perpetuate environmental injustice, environmental degradation, and climate change. Although there are many things that communities of faith can do as individuals and congregations, there are some solutions that are best addressed through policy work. At GIPL, we help to equip communities of faith with the tools to advocate for clean energy and other policies at the local, state, and national level that address climate change and the environmental injustices impacting our neighbors and communities. Congregations can help inspire action and get involved in advocacy by hosting letter-writing campaigns and scheduling meetings with their legislators to make their voices heard.

The 20 high-impact climate solutions put forward by Drawdown Georgia serve as a guidebook for communities of faith to take the next step in lowering their carbon footprint and addressing the climate crisis. Through investing in facility upgrades, implementing new programs and practices, and engaging their local communities, congregations play a critical role in reducing our carbon emissions in Georgia.