Events, by their very nature, will always have some element of waste. Making something from nothing, and involving crowds of people will always create by-products.
Since the event industry began, it has focused more on excess than conservation. That's why it is so refreshing to see new sustainability goals making their way into events both large and small.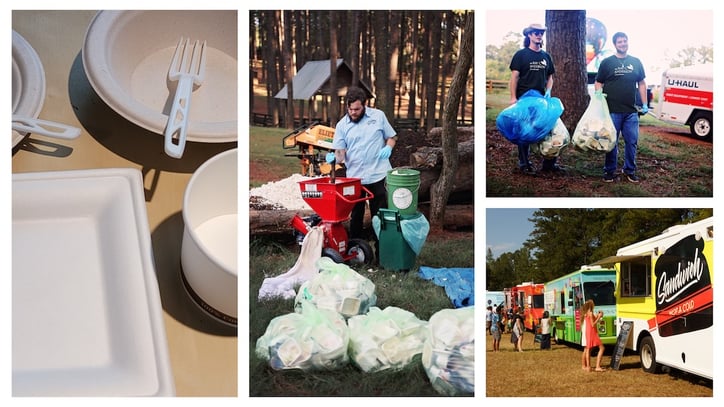 As the Event Producer for RayDay, the Ray C. Anderson Foundation's annual eco-education festival and celebration of "sustainability in manufacturing" giant, Ray C. Anderson, I am proud to have helped to mitigate the amount of waste at that event for the last ten years. We have learned much about "Green Events," and, as events continue to evolve in a post-Pandemic world, we are learning better daily how to truly walk the talk of Ray C. Anderson and honor his legacy.
>> Learn more about the life and work of climate visionary Ray C. Anderson.
What follows is an overview of what we have learned together in the last decade of mitigating waste at events. Anyone planning an event of any size can include the goal of a low-waste or green event by keeping these key points in mind during the planning process.
How to Plan a Green Event: Before the Event
Designate someone on the event team to focus on sustainability. This will help ensure that reducing waste and emissions is in focus at every step in the planning and execution of your event.

Get "Green Event" buy-in with vendors and venues. Prioritizing vendors and venues that are already focused on sustainability will make it easy to produce a green event.

You can also include sustainability requirements in contracts with the venue and your chosen vendors, and limit in-person planning meetings to only those that are truly necessary. A video conference call is often all you need.

Get "Green Event" buy-in with guests. Educate your guests about the work you are doing to make your event as eco-friendly as possible.

Include information about your sustainability efforts in every communication, along with tips for guests to green their attendance, such as carpooling or utilizing public transportation to get to the venue.

Food planning is critical for a green event. It's easy for large events to produce equally large amounts of food waste, which is bad for climate AND your bottom line.

To prevent wasted food, plan carefully to ensure you have just enough food for the size of the crowd. Consider serving smaller portions as well, or even allow your guests to choose their own food.

At RayDay, we utilize the sustainability-focused food truck group Simply Food Trucks to provide guests a small portion plate of their choice.

Serve food with cups, utensils, plates, and napkins that are fully compostable. If renting dishes and glassware isn't an option, you'll find a variety of compostable one-time use items now on the market that are not much more expensive than plastic.

Examples that we've used at RayDay include products from Better Earth and Eco-Products. You can also consider providing BPA-free plastic or reusable bottles and cups that are made from silicone or stainless steel.

Provide natural fiber or other reusable bags for use at the event and re-use after the event. Skip the disposable plastic or paper bag or other "swag" in favor of something attendees can use again and again.

Minimize printed materials. One of the benefits of the ubiquity of smartphones and laptops is that it's easier than ever to share materials electronically. Use a QR code that people can scan with their mobile device and immediately have access to the information.

Skip the handouts and don't print materials unless it's absolutely necessary for your green event. You can also reduce waste by reusing printed materials like signs and banners from previous years if you are planning a recurring event.
How to Plan a Green Event: During the Event
Create a Waste Management System. Offer multiple compost, recycling, and landfill stations with good signage throughout the event if it is not a seated dinner. Ten stations for every 1,000 guests is a good rule.

Consider having a "waste management ambassador" at every station to help ensure guests put each item in the right place, and who can also educate guests on the goal of having an empty "landfill" container at the end of the event, which means that all waste was prevented as effectively as possible. Ensure that your composting, recycling, and trash are taken to the correct facilities by hiring a team to manage this system.

Some venues, like Serenbe where RayDay is hosted, already offer composting on site; partnering with a company that manages composting at special events is also becoming increasingly common.

Use bio-diesel generators. If your green event requires generators, be sure to select bio-diesel generators. Biodiesel generally produces fewer emissions than petroleum.

Donate all edible leftovers. Every city has a food bank and/or an organization that collects leftovers, and there are likely hundreds of our homeless and hungry neighbors near our event venues. Be sure to collect your event leftovers so you can donate them. At RayDay, we work with Goodr to accomplish this goal.
How to Plan a Green Event: After Your Event
Use Carbon Offsets to quantify the carbon footprint of the event and balance it with other green projects. These offsets on their own aren't enough to produce a truly green event, but combined with strategies to reduce waste and emissions, they can increase the positive impact of your event. Be sure to research providers of offsets to ensure your money is being used most effectively.

Track your successes and opportunities for improvement to plan for less waste at future events. Each event you plan can get greener as you learn from your experiences.
Planning Green Events: A New Opportunity in the Wake of the Pandemic
Events evolve with and help evolve our culture.
The live event industry ground to a halt during the pandemic. The challenges this sweeping change presented to event planners has given us a unique opportunity to re-evaluate how we do what we do and how we can be better stewards of the earth while also making something out of nothing.
The event industry is reemerging with a new focus on reducing waste and emissions. Many large events and festivals are broadly promoting their sustainability initiatives, and even major venues like Mercedes-Benz Stadium are heavily investing in "Zero Food Waste" strategies.
The majority of food service providers now have leftover donation processes in place, and many have a composting program.
Whether we are gathering 50 people or 50,000, we can do our part to protect the planet in the same way we work to protect our guests.
The Gilded Age of lavish events that send mountains of leftover food and finery to the landfill is over.
Please join the Ray C. Anderson Foundation and ideaLand in this new era of creating Green Events.