Athens Land Trust is a recipient of the inaugural Drawdown Georgia Climate Solutions & Equity grants, awarded in December 2022 for their ground-breaking work advancing energy efficiency and equity in Georgia. Athens Land Trust (ALT) is distinguished by its mission and its impressive work in the community.
A Conversation with Dr. Tawana Mattox, Athens Land Trust
We spoke recently with Dr. Tawana Mattox, Director of Community Education and Empowerment at Athens Land Trust, about the critical work they are doing to strengthen communities, scale climate solutions around energy efficiency and weatherization, and address racial and economic inequities in Athens-Clarke County.
Tell us about the work that Athens Land Trust does in the community
The mission of Athens Land Trust is to improve quality of life for all by preserving, protecting, and strengthening the fabric of the community through education and the stewardship of land for purposes of affordable housing, conservation, agriculture, and economic development.
That means that we respond to community-identified needs and build individual and collective power among historically marginalized people.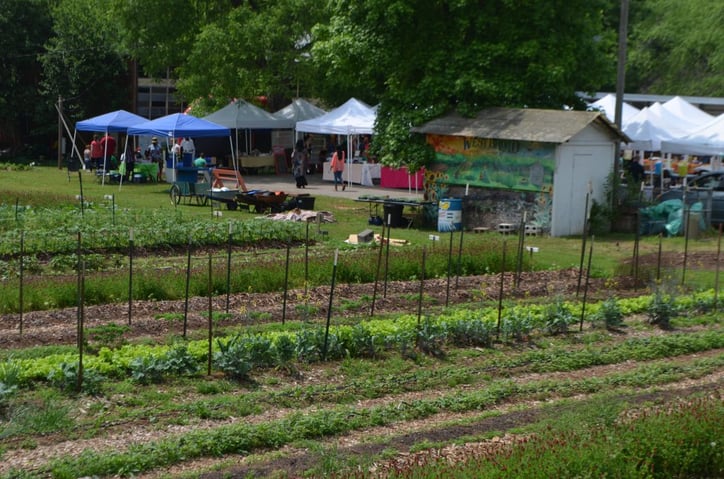 Founded in 1994 as the nation's only dual-purpose Conservation and Community Land Trust, we protect more than 20,000 acres statewide through conservation easements while providing outreach, training, and support to connect historically disadvantaged farmers and landowners to federal programs.
Locally, we use the Community Land Trust model to pursue holistic community development rooted in affordable housing, housing and financial counseling, civic engagement, and responsive community resource development.
What work is Athens Land Trust doing in the West Broad neighborhood of Athens?
Athens Land Trust has a 22-year history of engagement in the West Broad community, where we built our first permanently affordable home in 2001. In 2003 we began rehabilitating dilapidated vacant homes for homeownership, and started receiving requests from existing residents for help maintaining their aging homes, which led to the creation of the Young Urban Builders program.
Since that time, we have continued to build affordable housing in Athens' historically Black West Broad and East Athens neighborhoods and developed resources there for economic development and food justice.
In West Broad, we have built or rehabilitated more than 30 permanently affordable homes for sale to low-wealth first-time homebuyers. Our focus is on preserving the historic footprint as well as the cultural fabric of this neighborhood, which was a center of Athens' Black community from the late 19th and early 20th centuries. The neighborhood includes a Black primary school (the West Broad School) and was home to prestigious early Black educators and medical professionals.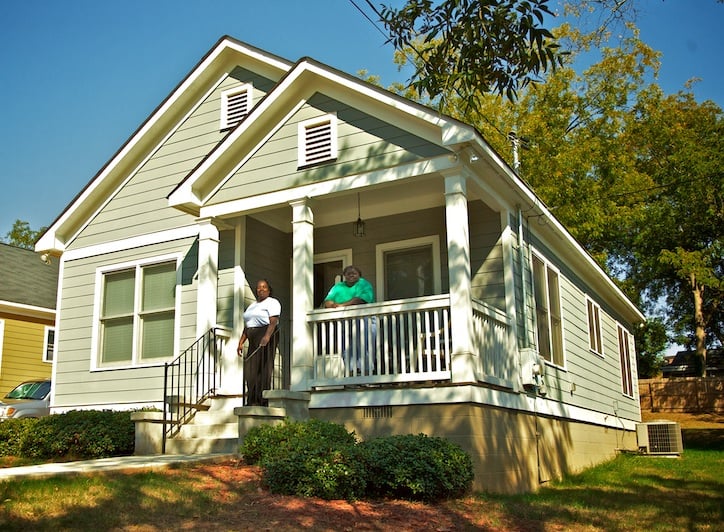 In 2012, we worked with community leaders and the local school district to establish a community garden and farmers market on the vacant grounds of the West Broad School. The garden provides residents with space and technical assistance to grow food for themselves. The farmers market recruits low-wealth residents as vendors and provides coaching for microbusiness development.
In East Athens, where we have developed more than 25 permanently affordable single-family homes, we created an urban farm in 2013 for local food production, agricultural training, and employment. It now operates an incubator farm program that provides affordable access to land, equipment, and technical assistance to new and beginning farmers of color.
Why is your work so important in the communities you serve? What needs does your work address?
The programs created by Athens Land Trust have benefited community residents living in homes mostly built in the 1950s and earlier. These older homes require costly maintenance to prevent them from falling into disrepair, and the inability to make these repairs can force homeowners to sell their homes to investors, who are willing to rehab and rent the homes to Athens' large college student population, or rebuild and sell much larger homes at prices that lock out our most vulnerable populations.
In addition, there is a commitment to keeping people in their homes and slowing down gentrification. We are doing this through a combination of prepping homes through general repairs, providing Weatherization Measures, and then providing education in energy burden, energy efficiency, and solarization. These measures allow our residents to be secure physically and economically as they will begin to see savings through energy bills.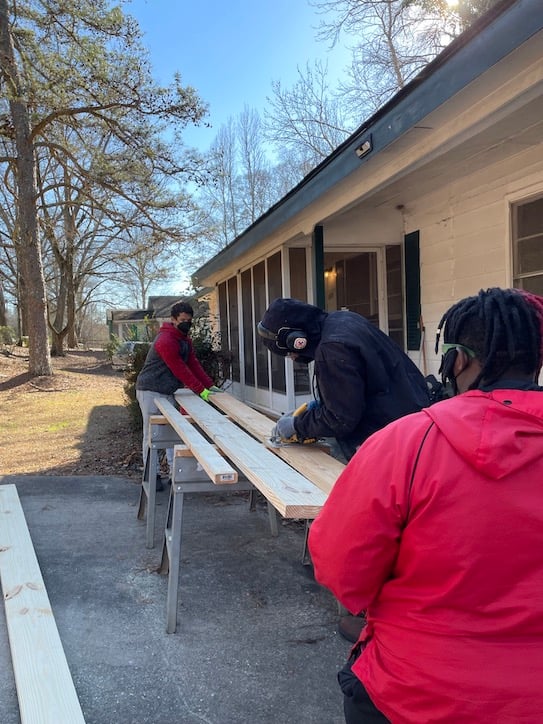 In tandem with our weatherization program we offer the Young Urban Builders (YUB) program for young people between the ages of 16 - 25, to learn a trade in construction. The main goal of YUB is to increase job opportunities for youth in the Athens area and empower them for future success, but the program also promotes cultural preservation in historically African American low-to-moderate income Athens neighborhoods.
How does the Athens Land Trust work with communities?
A key value of Athens Land Trust is to work with communities and not for them. We have developed a sense of community trust and partnership through the establishment of neighborhood advisory board members who work with us as an accountability arm for weatherization programming, and they are the eyes and ears of the community.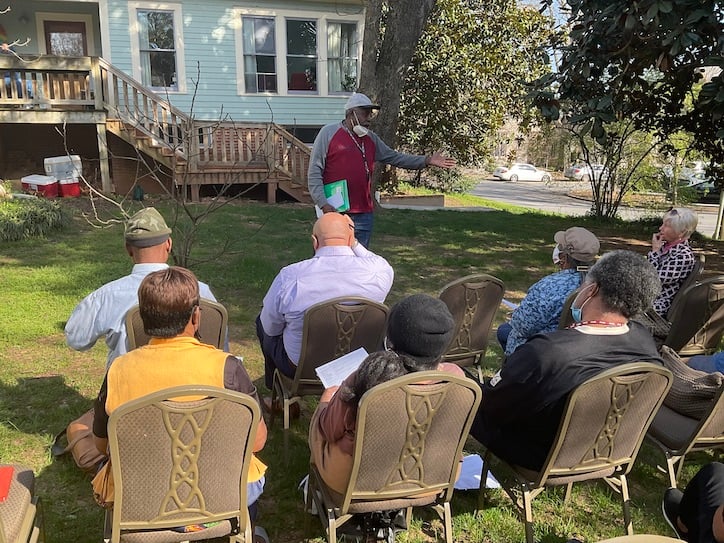 Through leadership training and leading bi-monthly community meetings, residents are building capacity for the neighborhood as respected voices for the city staff and others who want to offer support to their community.
How is Athens Land Trust already involved in scaling climate solutions in Georgia?
Athens Land Trust has established a commitment to build community resiliency to mitigate and recover from environmental hazards, a commitment aligned with the Athens-Clarke County government.
In 2019, the Southeastern Sustainability Directors Network awarded a grant to Athens Land Trust in partnership with the Athens-Clarke County government to assist residents in the West Broad neighborhood. Early in the project, we recognized the need to increase weatherization readiness measures to ensure homes were in shape for the prescribed energy measures.
As a result of that funding, approximately 41 homes were impacted, and over 70 projects were completed to improve energy efficiency, water/plumbing, and tree conservation efforts. Due to some high-impact interventions, we were able to reduce residential water use by 285,000 gallons per year. Based on our home energy audits and feedback from program participants, the project likely resulted in energy use reductions of 7–15% depending on location.
Congratulations on receiving one of the inaugural DDGA Climate Solutions & Equity grants. Tell us about the projects this grant will fund.
Athens Land Trust was awarded a Drawdown Georgia Climate Solutions & Equity grant to expand our work in the West Broad neighborhood as well as communities in North Athens.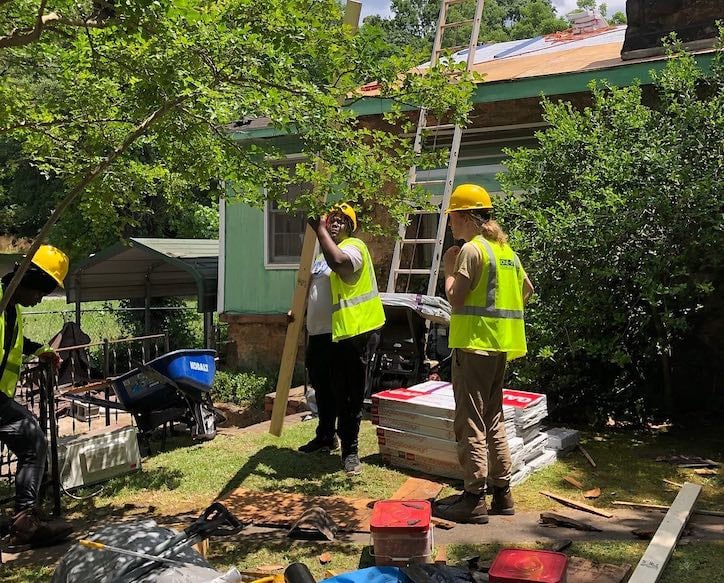 This will include programs to deliver home repair, weatherization, and energy efficiency improvements; expand workforce development capacity through the Young Urban Builders youth construction program; assist low-income homeowners in applying to the state Weatherization Assistance Program for deep energy retrofits; and build community leadership capacity for the implementation of climate solutions by supporting the establishment of Neighborhood Advisory Boards.
Why are energy efficiency and weatherization projects so important for your community?
First and foremost, these programs enable low-income families to reduce their energy bills. Athens-Clarke County has one of the highest poverty rates in the nation for communities of its size, with 36.9% of the 120,905 residents living at or below the federal poverty threshold.
Our targeted area is the West Broad community where the poverty rate is 54%. The median income for the residents is $16,594. Many of the homes in the West Broad neighborhood are historic, and while they contribute to the cultural fabric of the community, they lack modern energy efficiency. As a result, residents are particularly impacted by utility costs.
Low-income communities and communities of color are often left out of conversations around climate resilience and environmental justice. Historically, these underserved communities also get excluded from innovative sustainable improvements such as green building practices.
Substandard housing conditions amplify the environmental injustices faced by these communities. By delivering repairs and rehabilitation to older homes to address energy efficiency, weatherization, and renewable energy, our project is increasing climate resilience for vulnerable residents and investing in resources to mitigate the impact of future environmental hazards or climate instability for low-income homeowners.
How can people follow the work you do and/or get involved in your projects?
You can follow us on Facebook and Instagram to find regular updates about all of the projects that Athens Land Trust is involved in.
Our website has information about how to become a member of the Athens Land Trust as well as about upcoming volunteer opportunities.
Stay Up to Date on the Progress of Climate Solutions & Equity Grant Projects
Thank you to Dr. Mattox for speaking with us. We look forward to following your work as the Athens Land Trust continues this important work to advance energy efficiency and equity in Georgia!
Don't miss out on future blog posts sharing updates from the Athens Land Trust and all of the recipients of the 2022 Drawdown Georgia Climate Solutions & Equity grants.
Subscribe to receive notifications about future blog posts now.