As Drawdown Georgia approaches the one-year anniversary of the launch of our state-specific roadmap for scaling climate solutions, I find myself looking back on where we were last fall.
At the time, so many things felt uncertain. We had to scrap our plans for building community at in-person launch events across Georgia. The headlines were dominated by a contentious election, with little attention being paid to the urgency we all felt about taking action on climate. The culture wars felt all-consuming. We were confident that the 20 climate solutions we had identified for our state were the right approach, but what did the future hold for our movement?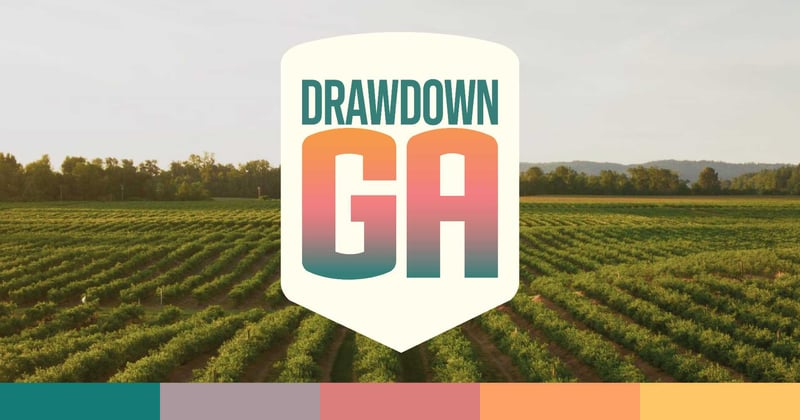 Could we have ever anticipated all that would happen in Georgia in the coming months? Now that we are one year in, it feels like the right time to reflect on the ways that the community has come together to validate our theory of change.
It turned out that our pivot to virtual launch week events offered our community the chance to engage in inspiring conversations that were a thrill to share with our friends, colleagues, and neighbors all across Georgia.
We also hosted our first webinars presenting the public opinion and scientific research we had conducted. Then, in early 2021, we hosted a virtual panel discussion that helped shine a light on the incredible innovations happening around solar in our state. We're also looking forward to hosting a new event looking at climate solutions around food waste in November.
From the beginning, we wanted the leadership of Drawdown Georgia to be pushed down and out, allowing this movement to be as "leaderful" as possible. In order for this decentralized approach to work, we needed other organizations to raise their hands and take ownership in their respective fields.
One of the first to do so was Georgia Interfaith Power & Light. They created a workshop to educate faith communities around the state about the 20 Drawdown Georgia solutions and how congregations can engage in scaling them. Drawdown Congregations are now active throughout the state, helping faith communities with energy efficiency projects and solar roofs.
Another example is the Georgia Climate Project, creators of Drawdown Georgia - Higher Ed. Through this initiative, universities across Georgia are collaborating to take climate action on campuses. And as we announced this week, the Ray C. Anderson Center for Sustainable Business at Georgia Tech has launched the Drawdown Georgia Business Compact, with 15 founding members who represent some of the biggest and best-known companies headquartered or that have a significant presence in Georgia. Convening the business community is one of the best ways we can mobilize to scale climate solutions in Georgia.
Another incredible success from this past year was the publication of the Drawdown Georgia research methodology in the prestigious Proceedings of the National Academy of Sciences journal. We always knew that the research team had created best-in-class work, but this publication validates its importance, not just to our movement in Georgia, but to the potential for other states and regions to have the tools they need to "localize" the Drawdown solution set.
Finally, and perhaps most importantly, we have found that our focus on the Beyond Carbon benefits of climate solutions is resonating with our audiences. Yes, our 20 high-impact climate solutions were chosen because of their impact on greenhouse gases, but we typically lead with why these solutions matter to all Georgians. By speaking about climate solutions in terms of their potential to improve equity, health, the natural environment, and economic opportunity, we have begun to connect with new organizations and individuals who haven't seen themselves as a part of the climate movement previously. Building this critical mass is one of our most important goals, and we know that we have the right message to do so.
Of course, there is still so much work to be done. My hope is that in another year's time, we will have seen our impact grow one hundredfold. We need many more people to become leaders in this movement, and we need many more proof points that scaling climate solutions is a good strategy for Georgia. So happy anniversary to us all--and let's get back to work!