Georgia businesses are taking action on climate.
As the one year anniversary of Drawdown Georgia approaches, we're excited to announce the launch of an inclusive and collaborative new initiative. The Drawdown Georgia Business Compact seeks to galvanize corporate climate action in Georgia and is a project of The Ray C. Anderson Center for Sustainable Business at the Georgia Tech Scheller College of Business.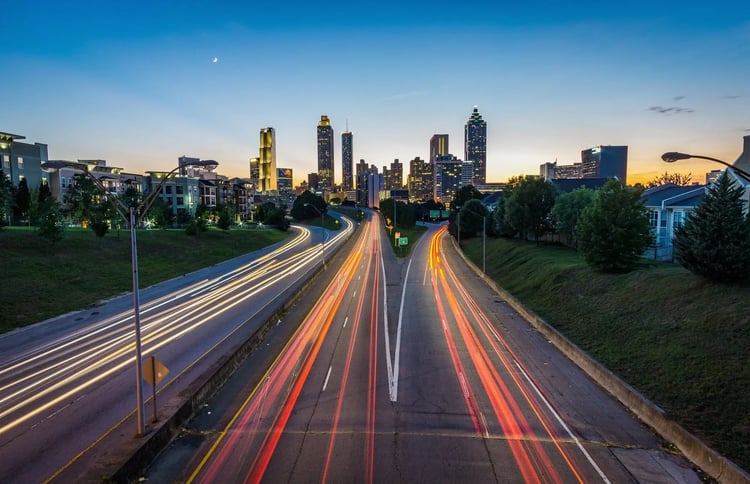 "Georgia is home to so many companies that are leading the way on climate solutions," said John Lanier, executive director of the Ray C. Anderson Foundation and a founder of Drawdown Georgia. "We are inspired by their leadership and look forward to seeing what can happen when these pioneers mentor and collaborate with other Georgia businesses that are just beginning down this path."
In a world where business compacts are becoming more commonplace, the Drawdown Georgia Business Compact stands out from the crowd because it maintains a unique focus on research-based solutions and is building a collaborative community of practice that will enable peer-to-peer learning and mentoring of smaller companies, all who are local to or have a significant presence in the state of Georgia.
The Compact's mission: to leverage the collective impact of Georgia's business community to achieve net zero carbon emissions in the state by 2050 through a just, competitive, and sustainable transition. In support of this mission, member companies commit to supporting Georgia's transition to net-zero carbon emissions, participating in at least one collaborative initiative that advances this goal, reporting annually on activities, and contributing funds to sustain the Compact.
By joining the Compact, businesses will become part of a platform for shared activities that support existing carbon reduction goals, inspire new ambitions, and facilitate state-wide engagement across industry sectors and supply chains. It is this special opportunity for collaboration that will help Georgia businesses scale solutions and reduce their carbon footprints. The Compact also seeks to provide a forum for addressing "beyond carbon" aspects, including equity, public health, environmental quality, and economic opportunity.
The founding members of the Compact include Anthem Blue Cross and Blue Shield, Atlanta Gas Light, Autodesk, Better Earth, The Coca-Cola Company, Cox Enterprises, Delta Air Lines, Eversheds Sutherland, Goodr, Google, Interface, Norfolk Southern, Southwire, TK Elevator, UPS, and YKK Corporation of America.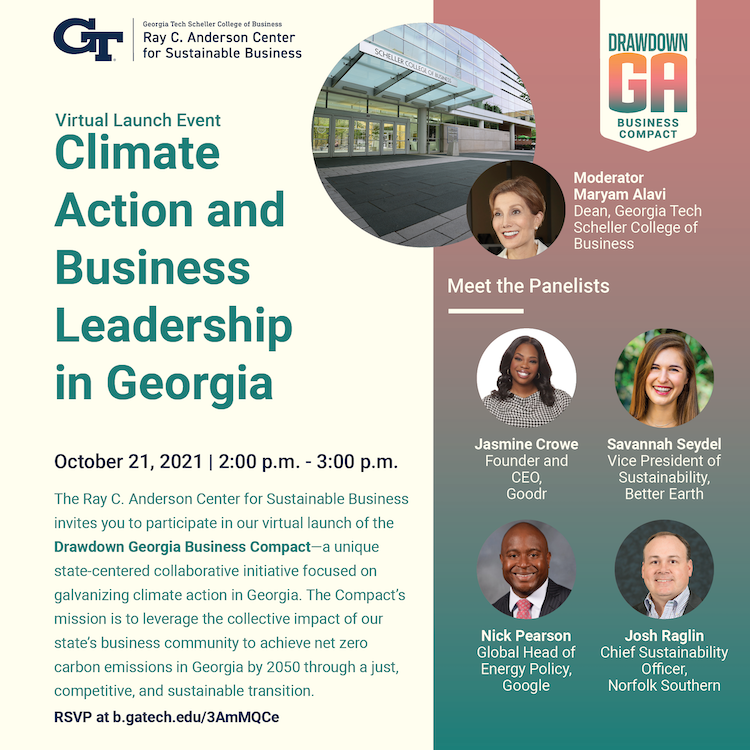 Join us on October 21st at 2 pm ET for our virtual event, "Climate Action and Business Leadership in Georgia." Hosted by Georgia Tech, this will be the first in a special series of launch events for the Compact. Maryam Alavi, dean of the Scheller College of Business, will moderate a panel discussion with representatives from Google, Norfolk Southern, Goodr, and Better Earth discussing the future of the Compact and its impact on the state. Click here to register.
For information on how to join the Drawdown Georgia Business Compact, visit the Compact website or contact David Eady by email (david.eady@gatech.edu) or phone (404-894-3038).