In 2017, 43% of greenhouse gas emissions in Georgia came from transportation and vehicles - more than any other sector. In particular, our highways present many challenges and risks - to human safety, to the communities they connect, and to the ecosystems they traverse. At The Ray, we believe the technology already exists to build a transportation system that is more resilient, safe, and sustainable for all travelers (and electric). That starts with what's driving on our roads.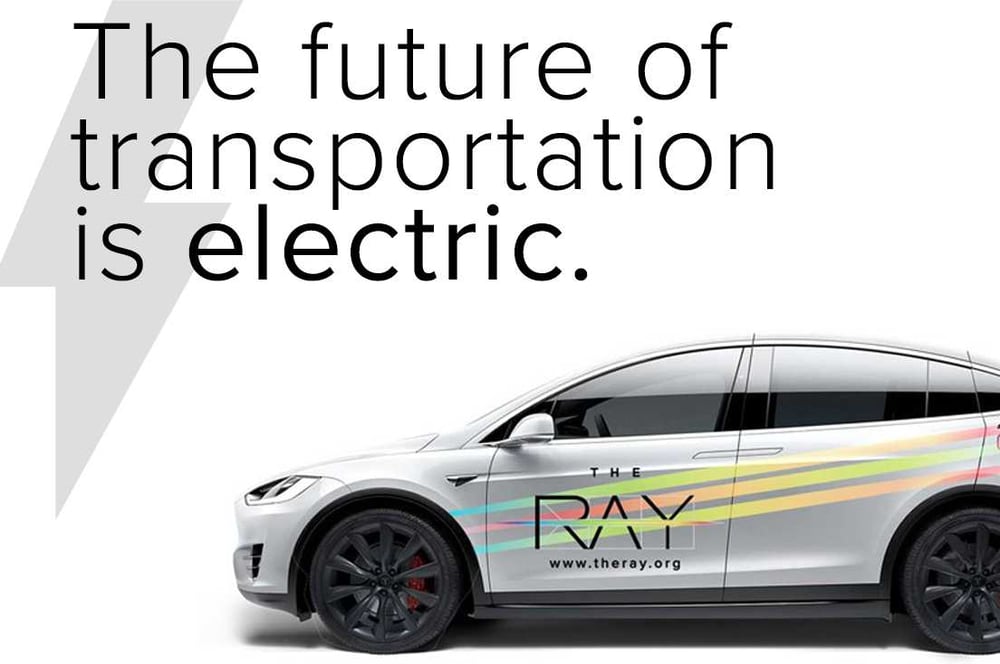 Drivers demand more from the vehicles they buy.
Government and industry-leading companies are setting higher standards for sustainability, and drivers are demanding more from the cars they buy. In turn, automotive manufacturers are responding with vehicle innovation and investment at a break-neck pace. As of September 2019, more than 1.3 million electric vehicles (EVs) were on U.S. roads, and this number is expected to increase to 18.7 million by 2030. Following this trend, automakers like GM, Jaguar, Volkswagen, and Volvo have already made the pledge to phase out their gas-powered models.
The future of transportation is electric.
Many consumers incorrectly assume that EVs are just an amenity for the wealthiest of society, but this is no longer true. Although EVs generally have a higher initial purchase price, Consumer Reports research found that EVs require less maintenance and are more cost-effective for owners over the lifetime of the vehicle. Because a purely electric vehicle has significantly fewer moving parts than its traditional gas-powered counterpart, they have lower maintenance and repair costs and cost less to fuel. On average, consumers who purchase an EV can expect to save $4,600 in costs over the life of the vehicle, easing them near a price parity to gas-powered vehicles. EV charging stations are becoming more accessible, and the federal government plans to accelerate that trend over the next five years with a current proposal to add 500,000 more stations across the country. An investment in EVs is a win on all fronts. It supports customer demand for reliable and sustainable transportation, reduces greenhouse gas emissions, and strengthens American manufacturing.
So, where does Georgia stand on the advancement of vehicle electrification?
The Peach State is a hungry, growing market for EVs with nearly 30,000 vehicles on the road and more than 930 publicly available charging stations. Utilities and Georgia-based companies like Cox Mobility are pivoting to meet the demand, while organizations like The Ray, alongside the Georgia Department of Transportation and the Georgia Department of Economic Development, are investing in creative projects, new infrastructure, and innovative technology to support the development and adoption of EVs.
Georgia law prohibits direct sales of EVs.
And while the market may be big enough for new models, new features, and new brands to compete for drivers, Georgia law currently prohibits manufacturers from selling and servicing their product "direct to consumers." Auto manufacturers that we know and love, like Ford and GM, work through franchise dealerships. But companies we are just getting to know, like Tesla, Rivian, and Lordstown, do not. In fact, in Georgia, only Tesla has a special exemption to work outside of franchise dealerships and go direct-to-consumer with car sales and service.
That uneven playing field presents many challenges, including for the Georgians who have already made a down payment to pre-order an EV from companies without franchise dealerships. How they actually take delivery of the new EV is up for debate, and they may have to travel across state lines for vehicle service.
Passing House Bill 460 to enable direct EV sales
Currently under consideration in the Georgia Legislature is House Bill 460, a bill that would give all-EV manufacturers - those that manufacture only electric vehicles and have never been associated with the dealership model - the ability to sell and service vehicles directly to Georgia consumers. It would also protect the existing franchise dealerships by holding legacy automakers to their franchise agreements in the future, come what may.
Permitting direct sales would remove a key obstacle to electric vehicle adoption in Georgia — 80% of electric vehicles are currently sold in this fashion. The Ray is actively working to move this legislation forward and to get more EVs on Georgia roads.
We'll keep the Drawdown Georgia audience posted.