Have you considered embracing a plant-forward diet? Summer is almost here, and for many Georgians, that means just one thing: visiting the local farmers market to stock up on fresh, colorful locally-grown produce. It's a fun way to spend a few hours with your family, and what's more, it's also a powerful way to support Georgia-grown climate solutions at home.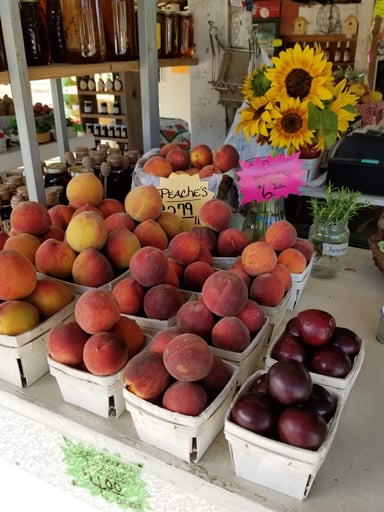 How Does a Plant-Forward Diet Support Climate Solutions?
The main attraction at any farmers market is the rainbow of seasonal fruits and vegetables on display at almost every stall. Shopping at farmers markets can encourage all of us to eat a more plant-forward diet simply because the locally-grown produce for sale is so irresistible. It also supports climate solutions.
Reduce Emissions Associated with Meat Production
Why is a plant-forward diet a climate solution for Georgia? A diet rich in plant-based foods reduces emissions associated with conventional meat production. This can mean following a vegetarian or vegan diet, but simply reducing your meat consumption as a "flexitarian," or by adopting Meatless Mondays at home can have a significant impact, too.
>>Learn about following a low-carbon diet from An Aspiring Climatarian
Did you know that we could reduce carbon emissions in Georgia by one megaton, or one million metric tons, by 2030 if 25% of Georgians adopted a plant-forward diet, or if we reduced statewide meat consumption by 25%?
Reduce Food Transportation Emissions
Purchasing locally-grown fruits, vegetables, grains, and legumes at a farmers market can help reduce emissions even more by reducing the emissions associated with transporting our food. Most of the fresh produce we eat in the United States travels an average of 1,500 miles to reach our plates. Buying from local Georgia farms can reduce that number significantly.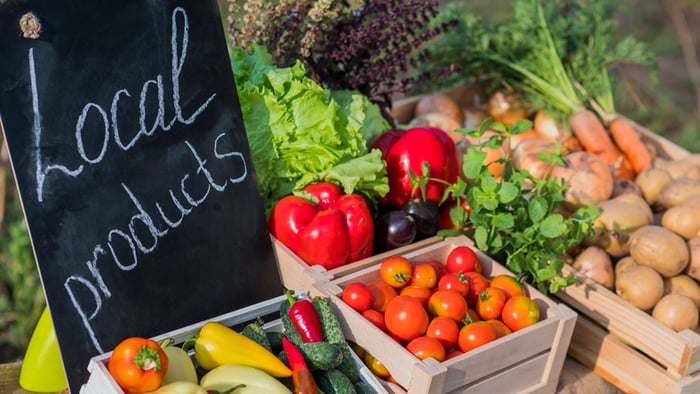 The Beyond Carbon Benefits of a Plant-Forward Diet
Reducing meat consumption in Georgia could help us take significant action on climate change and--as with all Drawdown Georgia climate solutions--the benefits of scaling this solution go well Beyond Carbon to include environmental and health benefits.
Better Water Quality + Less Extensive Farming Practices
Plant-forward diets can benefit the environment by improving water quality and requiring less extensive farming practices. The farming of plant-based foods is more efficient, as it generally uses less water, land, and energy inputs compared to livestock.
At the farmers market, seeking out produce from local farms that follow organic and/or conservation agriculture practices can have even more positive impacts on the environment and on our climate.
Support Heart Health + Protection From Cancer, Diabetes, and More
Diets rich in fruits and vegetables offer numerous health benefits, from supporting heart health to offering protection from cancer, diabetes, and other chronic illnesses.
Shopping for produce at your local farmers market could also encourage you to "Eat the Rainbow" by consuming fruits and vegetables in a variety of colors, ensuring that your body is benefiting from the full spectrum of important nutrients.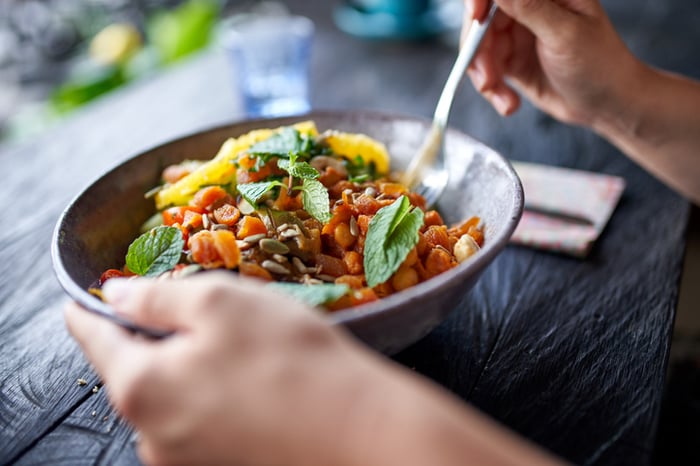 The Joys of Embracing a Plant-Forward Diet at Georgia Farmers Markets
These are all great reasons to shop at your local farmers market, but the benefits don't end there. We also love farmers' markets because they:
Build community. The farmers market is a wonderful place to catch up with friends and neighbors, have a picnic with your family, and maybe even catch local artists and musicians.

Support Georgia farmers. When you shop at a farmers market, you're supporting local family businesses and boosting the local economy.

Offer produce that is more flavorful and nutritious. Most of the produce at the grocery store is grown to withstand processing and long shipping times. It's often picked underripe, which means it's less flavorful and less nutritious. At the farmers' market, it's easy to find fruits and vegetables that were picked just the day before at the peak of ripeness.
Ready to go shopping for a plant-forward diet? Find a community farmers market near you.
>> Search for Farmers Markets in Georgia
Stay on top of the news about Georgia conservation agriculture and all of the Drawdown Georgia climate solutions by subscribing to our bi-weekly Georgia Climate Digest now.