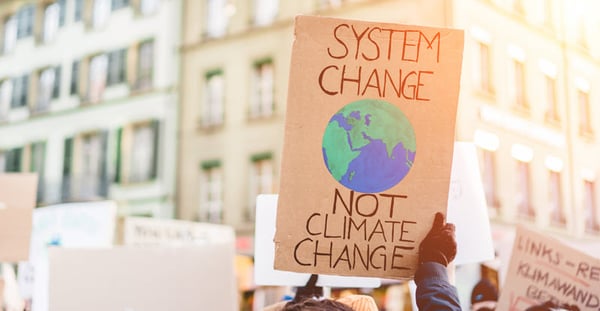 I saw this incredibly touching video after it went viral a year or so ago. In it, a young colorblind boy named Jonathan puts on special glasses that allow him for the first time to see the colors he had been unable to experience his entire life. It's emotional and heartwarming, and it gives you a sense of what it's like to literally have your worldview changed in an instant.
When I first saw the clip, I reflected on what has been my closest experience to what Jonathan felt in that moment. That is an interesting reflection, and one I encourage you to ponder for yourself. For me, the answer is a book that I read in the spring of 2014. I was auditing a class from the Presidio Graduate School called "Principles of Sustainable Management," and in it we were assigned Thinking in Systems: A Primer by Donella Meadows. I couldn't put it down, and by the time I had read the last page, I had been transformed into a systems thinker.
Meadows leads her readers first toward an understanding of how systems work, and then gradually to the more profound knowledge of how to change a system. I realized that, as an environmentalist, my entire job was to change a system – to help shift society such that we live in harmony with the natural world rather than in discord with it. Becoming a systems thinker has equipped me to be a better agent of positive change.
I have come to realize that what we are trying to do with Drawdown Georgia is its own systems challenge. The complexities are vast, and we recognize the critical interconnections between sectors as diverse as agriculture and electricity, and between considerations as critical as equity and job growth. What's true of all systems is true of Drawdown Georgia as well: to change it, you have to identify the most impactful leverage points and focus your efforts there.
When I describe our theory of systems change to audiences, I saw that we are trying to build a movement of "solutioneers" for climate, equity, health, the economy, and the environment. In doing so, we are focusing on leverage points from the grass-roots all the way to the grass-tops, all of which are critical. At the grass-roots level, we are using tools like Groopit and Civic Dinners to create meaningful Drawdown Georgia experiences for everyday Georgians. At the grass-tops level, we are proud to be convening the Drawdown Georgia Leadership Council.
The intent of this Council is to tap into the gravitas, wisdom, and networks of some of the most influential Georgians who understand the importance of climate action. By bringing them together, we hope to amplify Drawdown Georgia's key message – that our state can be a leader for climate solutions, and that there are many reasons beyond carbon that we should strive to do so.
Moreover, we want this Leadership Council to be representative of the tremendous diversity of our state. That diversity includes race, gender, and age, but it also includes geography, solution sector, and professional experience. This begins with our tremendous co-chairs we have already announced: Jasmine Crowe from Goodr, Roy Richards Jr. from Southwire, and Nathaniel Smith from the Partnership for Southern Equity. Soon, we'll announce the remaining members of the council, and in that roster will be reflected the best of Georgia's farmers, preachers, educators, scientists, philanthropists, community planners, and businesspeople. I can't wait to share them all with you.
With research at the heart of Drawdown Georgia, we have the data to show that climate solutions are good for our state. And now, with the Leadership Council at the head of Drawdown Georgia, we have the systems thinkers who are ready to help make those solutions a reality.
Please join us in welcoming this Leadership Council to our new effort. We look forward to working together to bring climate solutions home to Georgia.