What do our friends and neighbors in Georgia believe about climate change? Are they interested in green energy sources like community solar installations? Do they value our coastal wetlands and our forests, and do they know these natural environments can be a solution when it comes to climate change? Do people in Georgia recognize the intersection between climate change and social inequities?
Their answers to these questions just might surprise you.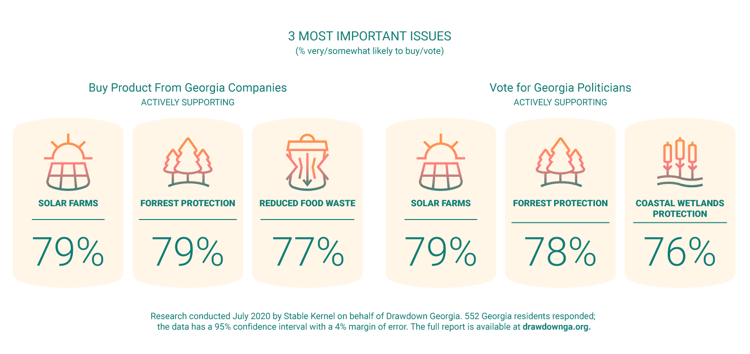 Over the summer, the founders of Drawdown Georgia partnered with market research company Stable Kernel to conduct an online survey to learn more about residents' opinions on climate change and the environment. As the team prepared to launch this new nonpartisan effort to accelerate climate solutions in a Southern state, they anticipated encountering not only political divides but also divides across the urban/suburban/rural landscape — and even disparity among races — so it was essential to get a sense of where the movement was starting.
Among the biggest takeaways from this study are that more than half (54%) of Georgians say that the issue of global warming is extremely or very important to them. And we want leadership that values the environment: Georgians are more likely to vote for Georgia politicians who actively support key issues including community solar, forest protection, and coastal wetlands protection.
Other key findings from the research include:
Two-thirds of us are more likely to buy products from Georgia companies that actively support environmental issues including community solar, forest protection, and reducing food waste.

Fifty-six percent of Georgians believe climate change and social justice issues are either strongly related or somewhat related, especially college students, urban residents, 18-34-year-olds, and African Americans.

Since COVID-19 began, 43% of Georgians report they are more aware of climate change, and over half are participating in new, healthy, and climate-friendly activities such as eating & cooking with more seasonal foods, putting more focus on creating less waste, and growing vegetables at home.

Over half of Georgians have become more appreciative of the outdoor activities the state has to offer including college students (81%), 18-34-year-olds (76%), urban residents (62%), and African Americans (56%).
In short: these results are truly exciting for everyone in Georgia who cares about climate solutions. The survey responses show great potential for Drawdown Georgia to be successful in engaging business and civic leaders, advocates, and innovators in working together to start down the path to a low carbon world.