More and more households in the United States have installed rooftop solar panels in the shift towards clean energy, especially in the West and Northeast. But what about Georgia? The state has greatly increased its solar electricity from utility-scale solar farms, but rooftop solar lags far behind. In a recent publication, "Rooftop Solar for All," the Drawdown Georgia team estimates that current rooftop solar systems in the state are responsible for reducing CO2 emissions by less than 10,000 tons in 2020. By 2030, the study estimates that rooftop solar could reduce emissions by about 1 million metric tons of CO2 if policy and business initiatives are launched to make rooftop systems more affordable and accessible.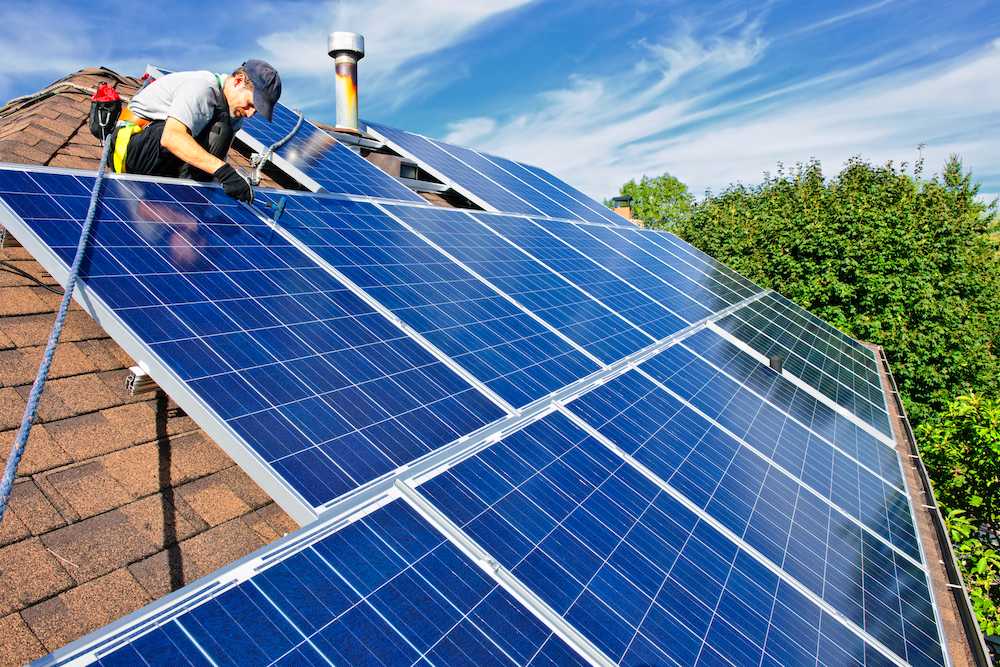 Rooftop solar allows residents to save energy costs and reduce their environmental footprint, all the while using existing rooftop spaces and minimizing land impacts. Additionally, rooftop solar confers social benefits beyond carbon by improving environmental and public health through emissions reduction. We estimate that the achievable environmental and public health benefits from reduced pollution would be worth $67 million if rooftop PV reaches its achievable potential in 2030. However, economic and regulatory barriers such as low buyback rates and permitting costs are among the current objections to rooftop solar for Georgia residents.
But what happens if Georgia introduces different buyback policies, and how achievable are they? We have estimated the period when consumers can realize net benefits ('payback year') in three different utility buyback rate scenarios:
Avoided Cost, which is based on the amount the utility would otherwise pay to buy the power in the open market - in Georgia, the

avoided cost rate

is priced at approximately 40% of the retail rate for solar energy.

Net-Metering (priced at the retail rate)

Introduce an "adder": a buyback rate approximately 20% above the retail rate, which is done in some states like Massachusetts and California as a financial incentive to encourage homeowners to install rooftop solar panels.



The payback year drops to 1.56 in 2030 when an adder is introduced.
When consumers curtail their electricity consumption, the payback year in 2030 is shortened even more. It drops as low as 1.23 years when an environmental adder is implemented and solar hosts curtail their consumption. In sum, if Georgia adopts unlimited net-metering, Georgia will likely realize its achievable potential by 2030.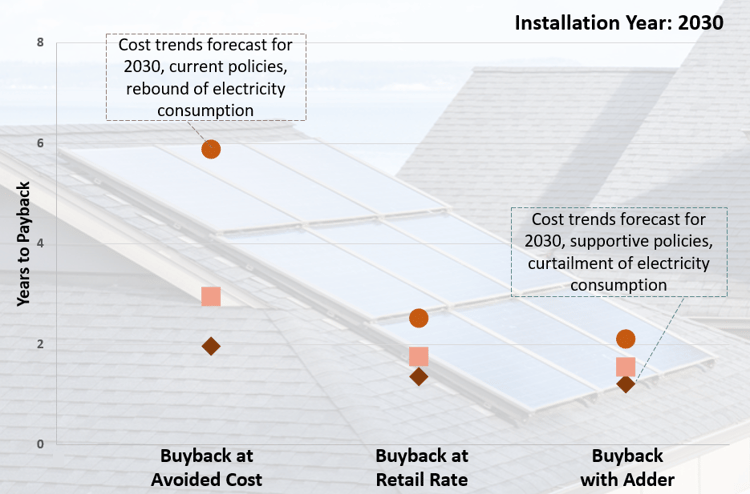 Customers are more inclined to invest in rooftop solar when they are compensated for the power that they contribute to the grid. While Georgia Power historically has bought back customer-generated electricity at the avoided cost rate, the state has taken some incremental steps towards more favorable arrangements. In 2019, the Georgia Public Service Commission required Georgia Power to establish a "Monthly Net Metering" program, in which the utility offers monthly net-metering and retail buyback to a cap of 5,000 rooftop solar customers or 32 MW of capacity, making it the first time that Georgia customers were able to receive retail-rate compensation for energy sent to the utility. The cap was reached in July 2021, indicating its inability to accommodate the growing demand for solar and realize the full 25-GW technical potential of rooftop solar in Georgia.
The cap on this program has already caused problems for some Georgia Power customers, like Temple Beth Tefilloh, a Jewish congregation in Brunswick, Ga., that had been counting on saving $1,500 annually on the temple's electric bills to help finance their new rooftop solar installation. Temple leadership only learned last month that they would not be able to participate in the program as they would exceed the cap. The financial incentives for new rooftop solar installations are now substantially reduced as home and building owners will only receive a credit of about 2.7 cents per kilowatt-hour for the electricity they send back to the grid instead of the retail rate of about 12 cents that net metering participants receive.
The other barrier to rooftop solar adoption in Georgia is the up-front cost. Solarize programs help reduce those costs through bulk-buying programs, in which participating communities purchase solar panels in bulk from pre-selected installers. These projects have resulted in an installed capacity of more than 4000 kW as of 2020, and are still expanding with active projects in Savannah and Atlanta. Public administrators also hope that Solarize campaigns can help lower-income families reduce their energy burden by making solar power more accessible to them.
Results on the ground demonstrate the positive impacts of solar installations. The Solarize project in Savannah, for instance, has led to the city's first solar-powered church, the Collegiate Church of St. Paul the Apostle. The success of this project has encouraged the project's solar installer, Hannah Solar, to take part in further installations on homes and businesses in the Savannah metropolitan area, even spilling over to South Carolina. The same company has installed solar panels at the St. Timothy's Episcopal Church, a church in Decatur, showcasing clean and environmentally friendly energy as a way in which community and faith organizations can provide for the common good.
Other community efforts illustrate the ability for solar to facilitate a just energy transition. The LaGrange Housing Authority, for instance, installed a SmartFlower unit that could not only provide community members with solar energy, but also allow schoolchildren to see renewable energy in action and learn about its benefits.
These community efforts are driving a large part of rooftop solar expansion in Georgia, but their impacts are limited by high solar costs, low buyback rates, and additional installation fees. Achieving widespread rooftop installations requires a much more substantial revision of solar regulations, such as setting retail buyback rates and providing a renewable adder. Georgia Power's pilot programs in net metering and smart communities serve as a good start; these need to be scaled to become more transformative to enable rooftop solar for all.