How can Georgia K-12 educators nurture and engage the next generation of climate leaders in our state? How are teachers employing hands-on learning experiences around climate with their students, and how do young leaders view their roles in scaling climate solutions? Drawdown Georgia invited a panel of experts to explore these questions and more in a session titled "K-12 Climate Education: Climate Solutions That Go Beyond Carbon."
Moderated by Jaimie Cloud, president of the Cloud Institute for Sustainability Education, the panel included four speakers who are on the ground floor of climate education in Georgia, especially when it comes to taking action on climate and educating future generations about climate change: a science content specialist, a teacher, a student and a director of a community-based non-profit.
K-12 Education and Ways of Thinking About Climate Change
Jamie Cloud set the stage by sharing a quote from Barry Richmond, a system dynamicist at MIT:
"All systems are perfectly designed to get the results they get."
In other words, it is no accident that we are facing the challenges of climate change in the current moment. We built for it; we bought and sold for it; we even educated for it. It wasn't all intentional, but this is why we are where we are and why it's time we need to make a mid-course correction, as Ray Anderson would say.
Cloud also noted that we can think about climate change as a symptom of global warming, which is a symptom of emitting greenhouse gasses faster than the earth can absorb them, which is a symptom of bad design, which is a symptom of our old and outdated thinking.
When we know better, we can do better, Cloud explained, noting that it all comes back to education.
Think Like a Bathtub: a Metaphor for Climate Change
A bathtub, as Cloud pointed out, is a surprisingly good metaphor for climate change.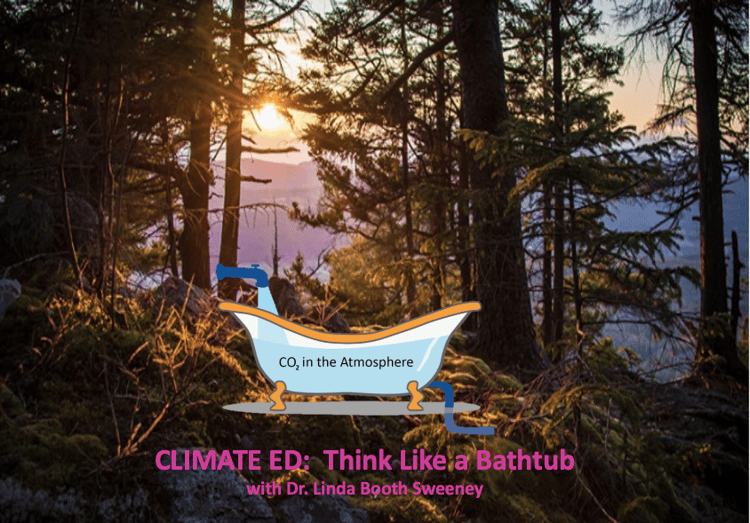 The faucet represents the release of greenhouse gases into the atmosphere. The drain represents the ability of the earth to absorb those gasses as they are released.
If the faucet is adding water much faster than the drain can let it out, your bathtub is going to overflow. This is the situation we're in when it comes to climate change and global warming.
Georgia Schools and Creating Positive Change
At the Cloud Institute, Jaimie and her team think of learners as the center of everything.
Learners are students, of course, but so are teachers, parents, administrators--everyone in the communities around schools. Learners are nested inside classrooms, where adults and young people learn together. Those classrooms are nested inside schools that learn what organizational policies and practices make all of the inner parts of the circle work. Schools that learn are nested inside buildings that are nested in our communities.
This is why the Cloud Institute believes that the most important unit of change is our schools.
A 'New' Approach to Environmental Education and Professional Learning
Dr. Donald White, science content specialist at Coweta County School System, spoke about the importance of offering teachers opportunities to gain new types of professional experience. While teachers receive a great deal of specialized training around education, many have little to no professional experience in other areas.
Coweta County focuses on empowering teachers, giving them the tools they need to take back to their students, in order to help them impact those students for the rest of their careers.
Adventures in Environmental Education
In 2021, the Coweta County School System partnered with Coweta-Fayette EMC, Yamaha, and other local county governments and utilities on a summer "Educator Adventure" focused on alternative energy production.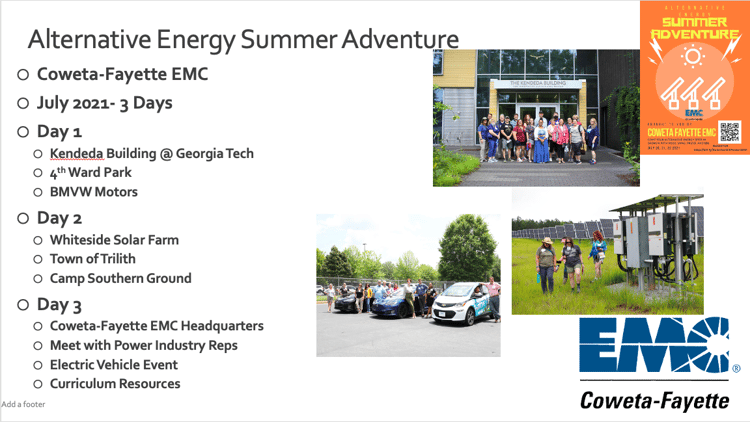 Thirty-two teachers and seven school administrators and other industry partners participated, directly impacting nearly 4,000 students. Those 4,000 students impacted 11,000 parents.
And as a result of a media campaign related to this project, 80,000 members of the Coweta-Fayette EMC learned about the project as well. It was an important win for Coweta Fayette EMC and for the school system.
Environmental Educator Adventure Highlights
Highlights from the three day professional development "adventure" included tours of:
The Kendeda Building at Georgia Tech, where the group took a deep dive into the science of green building and the carbon footprints of buildings.

The retention pond at Fourth Ward Park in Atlanta, where the city got creative and chose to invest in beautifying the pond, resulting in an attractive recreation facility and a $1 billion in development in the surrounding area.

BMVW Motors in Union City, which focuses on electric vehicle resales as well as in repurposing old hybrid and EV batteries for home use. The recycling of EV batteries is an important environmental concern and this location showed teachers just one way that businesses are thinking creatively about this problem.

Lunch in the town of Trillith, where local developers gave presentations about local efforts to make the town the most energy efficient, sustainable community in the country by installing solar, geothermal systems, and more.

Visits to solar farms at Camp Southern Ground and the Whiteside Solar Plant.

Meeting with power industry reps at Coweta-Fayette EMC headquarters to learn more about the goals of the power industry when it comes to sustainability and the environment. The teachers also had the chance to test drive Tesla electric vehicles and received curriculum resources from Green Power EMC to implement in the classroom.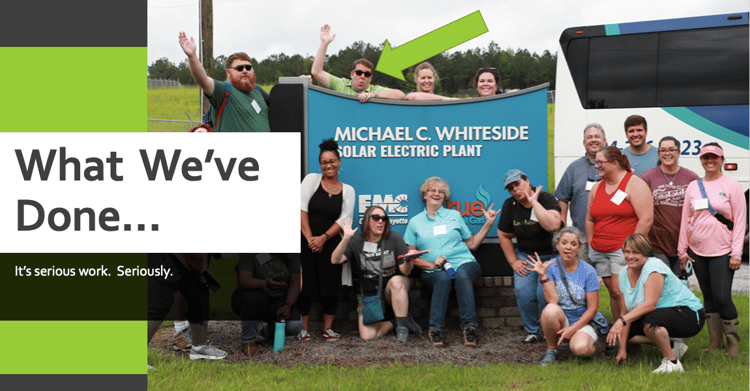 Hands-On Climate Education Opportunities
During the trip, a sixth grade teacher expressed interest in installing a weather station at the school to allow students to perform a study on the feasibility of upgrading to a renewable energy source like wind power, geothermal, or solar to power the school. A Coweta-Fayette EMC representative overheard and purchased the weather station for her class to use.
Takeaways for Climate Education for Teachers
Dr. White summed up what this professional development experience for educators taught him about how to immerse teachers in an opportunity:
Make it phenomenal, make it memorable, make it something that the teachers are going to go back and talk about and remember. This is how you can be sure they will take their learnings back to the classroom and multiply the impact of this work.

Offer them a strategy, not just an opportunity. Your teachers may not have any experience or knowledge about things that are going on outside the classroom. Make it easy for them to employ their learnings right away.

Feed them well and you'll get a whole lot of engagement from them.

It's not enough to get teachers to come out to these events--you need them to implement their learnings in the classroom.

And the only way that they'll do that is to give them the tools and the resources they need. You may even need to roll up your sleeves and walk into the classroom with them.
Project-Based Climate Education at Tybee Island Maritime Academy in Georgia
Katie Holliday is a middle-grade science educator at Tybee Island Maritime Academy (TIMA), a K-8 public charter school that emphasizes project-based learning.
Holliday credits a workshop called Teachers on the Estuary, hosted by the Wells National Estuarine Research Reserve with significantly changing her thinking about how to teach students about climate change. The workshop introduced her to Project Drawdown, and one panelist noted that whenever his own child would become depressed about climate change, he would tell her to visit the Project Drawdown website, pick a climate solution, and think about how she could take action herself.
This learning inspired Holliday to incorporate Drawdown solutions into her curriculum. She asked students to create graphic representations of the carbon cycle on Tybee Island to help them understand how carbon is moving around on the island, and to help them think about some potential solutions to the problem of climate change.
Holliday also invited John Lanier of Drawdown Georgia to speak to the students. On a virtual call with her class, where John shared Jaimie Cloud's bathtub analogy. The class referred back to this analogy time and time again throughout the unit to help them understand the difference between carbon sources and carbon sinks and how we don't want the bathtub to overflow.
During the session, Lanier also introduced the 20 Drawdown Georgia Climate Solutions, helping the students to begin thinking about actions they might take in their school, on their island.
Based on the Drawdown Georgia framework, the students picked two solutions to focus on addressing: food waste and coastal wetland preservation.
Fighting Food Waste at Tybee Island Maritime Academy
The students set a goal to reduce food waste in the school cafeteria and broke into groups based on the action they were interested in.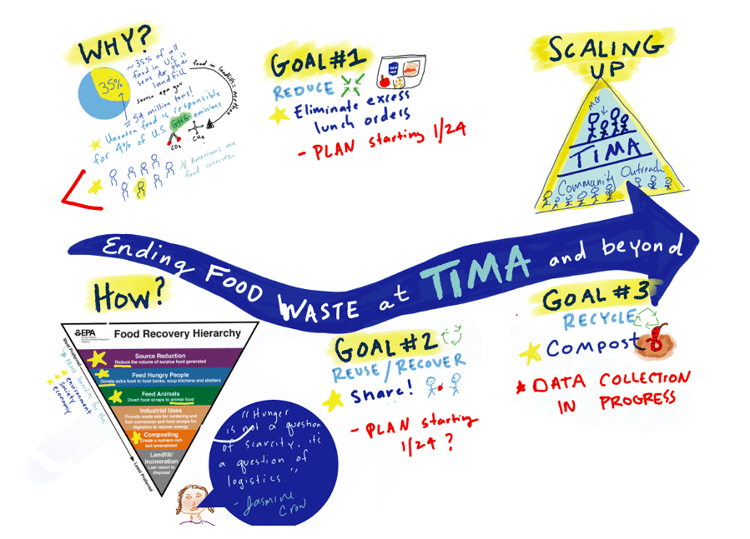 Some focused on correcting the lunch ordering process to reduce excess food ordering from the start. Others designed a marketing campaign to get the word out to the rest of the school about the work they were doing to stop food waste.
The students also formed a data team to gather data on how much food was being wasted daily, and how much could be diverted to composting or other uses.
Finally, the composting team designed a composting system and obtained a $1,000 grant to begin worm composting onsite at the school.
Preserving Coastal Wetlands and Salt Marshes
Local salt marshes are very near and dear to the hearts of TIMA students and teachers alike, so students chose to work on protecting the wetlands as a climate solution.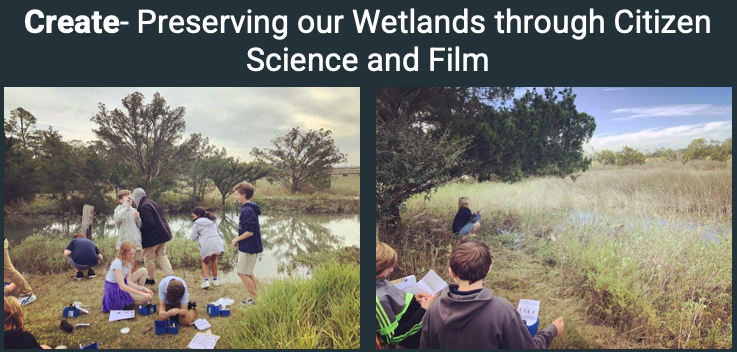 Students participated in citizen science through Adopt-a-Wetland to monitor the health of the ecosystem, share their data with scientists, and create how-to videos to teach others how to monitor wetland health and participate in Adopt-a-Stream. They also created nature documentaries to show the community how important the salt marsh ecosystem is and why it's something that we need to preserve.
Takeaways for Educators
Holliday concluded by sharing her advice for effectively engaging students around climate science:
Focus on the solutions.

Give the students the opportunity to choose what topics and projects are most important and meaningful to them.

Engage community partners so students can see climate solutions in action in their own cities and towns.

Getting students engaged and helping them to see how they've personally enacted change in their school or community is key to shifting their attitude on climate from "game over" to "game on."
Student Perspectives on Climate Education
Etta Wade, an eighth-grade student at TIMA, shared her experience participating in last year's Future Cities competition. One of the requirements was to include a moving part that followed the elements of a circular economy, so her team incorporated a renewable energy plant that produced electricity from the movement of the tides.
TIMA also offered Etta's class the chance to attend the Adopt-a-Stream conference in Helen, Ga., where they were able to experience firsthand what scientists and advocates are doing around water ecosystems.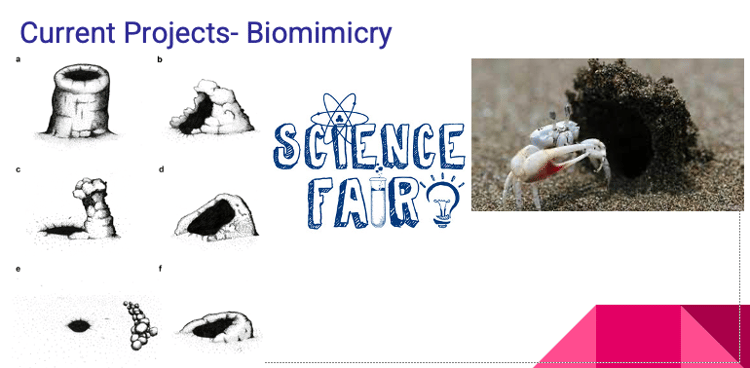 Etta is currently working on a Science Fair climate resilience project based on biomimicry: a flood shelter inspired by king crab burrows, which is meant to be more affordable and effective.
Engaging Georgia Climate Youth Leaders at Green Cell Summer Camps
Ramya Shivkumar is the director and youth program manager at Green Cell, a nonprofit that is passionate about raising awareness about sustainable solutions and helping everyone transition from a wasteful lifestyle to one that is more resourceful.
Green Cell hosts a youth summer camp program to educate kids about how climate change is not just a subject for science class, but an issue that will impact every area of their lives. They also help kids make the connection between climate science and climate action, using the climate anxiety we all feel to mobilize the next generation of climate leaders.
Green Cell learned that while most kids are interested in helping to solve climate change, there are gaps in their understanding when it comes to how to apply scientific concepts in their everyday lives. They would need to experience their own transformation in order to demand change for the community around them.
Shivkumar expressed that the greatest threat to this planet is a belief that someone else is going to come and save us. Green Cell's youth program is dedicated to leading change in our communities because adolescence and early adulthood are ideal times to foster civic engagement, imparting awareness and inculcating environmental stewardship. It is during these developmental periods, Green Cell believes, that there are the greatest opportunities to infuse a culture of sustainability.

Green Cell Youth-Led Climate Action
Green Cell staff and Greener Sunshine summer campers are engaged in a wide variety of activities designed to benefit and engage the young climate leaders of tomorrow. Just a few examples of their projects include:
An Eco Club curriculum that incorporates mentorship and guidance to reduce the amount of prepwork to get these clubs off the ground.

Site visits to nature preserves, wastewater treatment plants, and other spaces where campers experience these places firsthand and explore how they connect to climate action.

An international summer camp that encourages kids to work on their own eco service projects. One project has already helped recycle more than 3,000 lbs of glass from one neighborhood in just two years.

The Solarize Forsyth Ambassador program that spreads awareness about the countywide Solarize initiative.

Green Cell youth advocated for ocean climate action during the National Ocean Climate Action Lobby as the only youth-led contingent from Georgia. They sought to raise awareness among Georgia leaders and kids about climate change impacts, especially for vulnerable communities and coastal communities. They also garnered 2,500 signatures from students supporting ocean climate action and won a spot to showcase their efforts at Georgia Tech's Global Climate Symposium.

Teaching K-12 Students About Climate Solutions in Georgia
Want to learn more about how to teach K-12 students in Georgia about climate change and how to become part of creating environmental solutions? You can view the complete recording of this webinar above. The following resources will also be useful to Georgia teachers, parents, and students interested in learning more about climate science and scaling climate solutions in Georgia homes, schools, and communities.
>> Learn more about climate education resources for Georgia educators
Ask Nature
Biomimicry Youth Design Challenge
Book: Regeneration by Paul Hawken
Climate.gov
Climate Action Academy
Climate Generation
Climate Solutions 101
Connected Science Learning Sept.- Oct. 2021
Cool California Climate Change Curriculum
Drawdown Learn
Future City Competition
Green Schools National Network
IOP Science
K-5 Biomimicry Education
K-12 Climate Action
Linda Booth Sweeney Blog
The Carbon Almanac
The Climate Change Playbook
The Cloud Institute
Undaunted K-12
World Wildlife Fund Food Waste Warriors